Sync Your Phone's Contacts and Calendar with Google for Free with NuevaSync
December 24, 2008 - Reading time: 5 minutes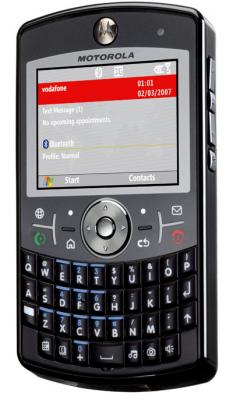 Many moons ago I wrote a beefy article on Sycing Your Windows Mobile Contacts and Calendar with Plaxo, Thunderbird, and Google for FREE.
Since I wrote that article, NuevaSync, the free synchronization hub, has added a few features. Notably, NuevaSync now supports syncing directly with Google for Contacts, thus eliminating the need for Plaxo.
Today, I'm going to show you how to simply sync your phone's Contacts and Calendar with your Google account. Since I have a MOTO Q, this tutorial will be from a Windows Mobile perspective, but NuevaSync also works with iPhone and iPod Touch 2.0.
Tools Required
A Google account – I'm willing to bet you have one of these already
A NuevaSync account – free, still in Beta
That's it. There's nothing to install on your phone or your computer.
As always, please back up your current mobile data before you proceed. This tutorial should work flawlessly for you, or it may drink all the eggnog in your refrigerator. Always keep a backup.
Step One – Configure NuevaSync
To get started, first create an account with NuevaSync. The main NuevaSync configuration area is quite spartan. All you need to do is click the change button next to Contacts and Calendar and select Google for each of them.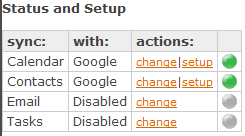 The Contacts area now offers Google in addition to Plaxo. Note: NuevaSync will sync with your real Google contacts, not your suggested contacts.

When you click setup, NuevaSync will ask you to enter your Google ID and request authorization for access to your account. You do not need to give NuevaSync your Google password.
Step Two – Configure Your Phone
Now that NuevaSync is configured, let's move on to setting up your phone. On Windows Mobile:
1. Launch ActiveSync (Go to Start -> ActiveSync)
2. Go to Menu -> Add Server Source (or Configure Server)
3. Configure your Server Settings. For the Server Address, enter www.nuevasync.com. Check the box to enable SSL encryption.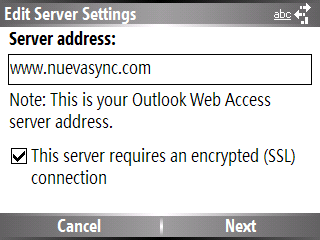 4. Next, add your user information. Enter your NuevaSync user name (full Gmail address) and your NuevaSync password (NOT your Gmail password, unless they are the same. If they are, shame on you).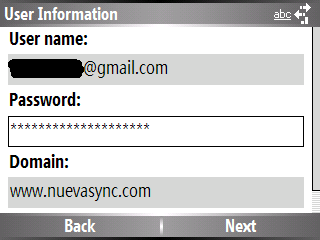 Under Domain, enter nuevasync.com. My phone automatically added the www, but it still works fine. Be sure to check the box to remember your password.
5. On the Options page, only check the boxes next to Contacts and Calendar. NuevaSync does not yet support E-mail and Tasks.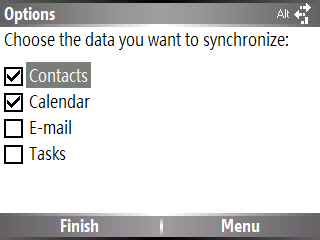 Hit Finish, and you're done. To start the sync process, go back to ActiveSync and hit the Sync button. If you configured everything properly, your phone should connect to Google through NuevaSync and update your Contacts and Calendar accordingly.
Hint: You can adjust the scheduling frequency in ActiveSync by going to Menu -> Schedule.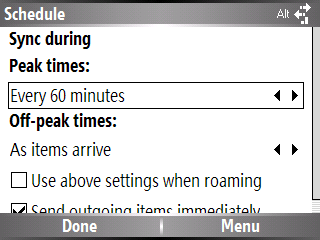 Final Thoughts
I really like NuevaSync. Though it's still in Beta, it works surprisingly well, and I appreciate that there's nothing to install. Of course, I'm patiently waiting for them to support IMAP e-mail and Tasks. With the recent inclusion of a Tasks To-Do list by Gmail labs, it seems like a logical inclusion for NuevaSync to support Gmail Tasks. I would love to see this happen.
Happy syncing! I don't have an iPhone, but maybe one of my iPhone-toting co-authors could provide iPhone-specific instructions. Stay tuned.