Fed Up with Blogger's Upload Limitations?
December 17, 2008 - Reading time: 9 minutes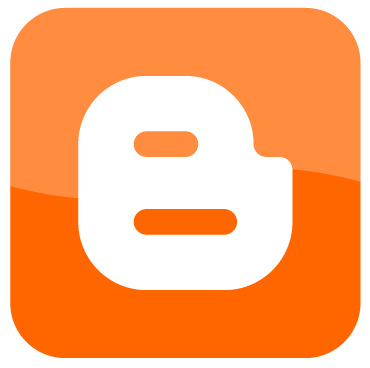 Update: There's now a third, very simple method available – who.hasfiles.com – see more info.
Google Blogger is a great and easy way to create your own blog, but one nagging problem is the limitations on uploads. Sure you can upload images and video, but not other common file types such as MP3, DOC, ZIP, and PDF.
There are a number of ways around this limitation. I'm going to show you two of them today.
I had three requirements in mind when finding a solution:
None of the methods should cost a single penny!
The method should allow for direct linking to files, not going through a middle-man.
The process should be as simple as possible.
Method One – Google Sites
The simplest solution that I have found is to use another Google service – Sites. To enable Sites, just log in with your Google account and create a name for your site. Make sure to make your site Public.
Sites offers 100 MB of extra storage space where you can link directly to MP3s, PDFs, or any other type of file you wish.
Now let's make a page where you can add some files. In Sites, click Create a New Page at the top.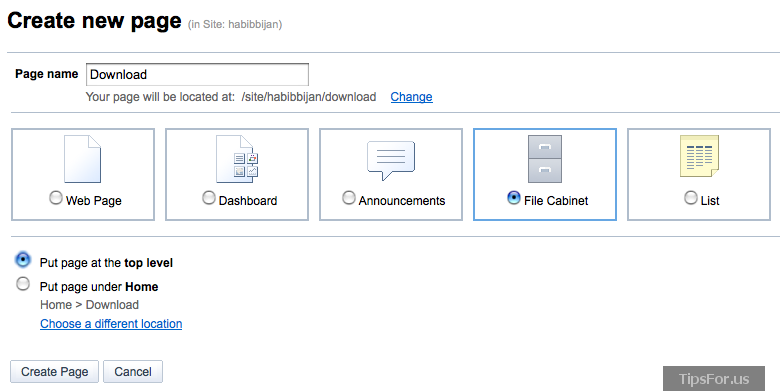 Choose File Cabinet as your page type. Once you're done, all you have to do is add a file on the page you created.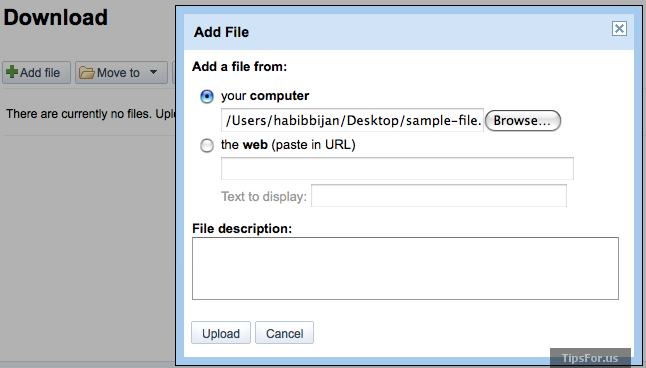 Once your file uploads, the last step is to simply right-click your file and Copy Link Location (Firefox – other browsers may say something like Copy Shortcut).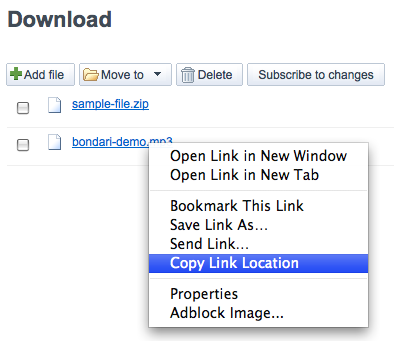 Paste that link into Blogger, and voila! You now have a direct link to your file! If you find that you cannot link directly to your file, make sure your Site is listed as Public.
This is the easiest method I've found, and I like that it's tied directly to your Google account. If you run out of your 100 MB, you can create another Google Site, or consider method two below.
Method Two – DriveHQ
This solution is slightly more complicated, but offers much more storage space. DriveHQ has been around for many years, and they offer 1 GB of free space accessible by FTP. You can link directly to files provided that you create a True account – still free, essentially just requires verification of what they call a trustable, non-mainstream e-mail address. Accounts like Hotmail, Yahoo, and Gmail do not count. I just used my university e-mail.
Though there are other free FTP hosts, I recommend DriveHQ because they have been around for many years, and because your files never expire due to inactivity. I created an account with them four years ago, and I went for over two years without logging in. My files were still just as I left them.
DriveHQ Web Share
Once you create a free account with DriveHQ and upgrade to True status (free), you will have access to a website root folder (wwwhome). Anything you place in your wwwhome folder is accessible online (YOUR-USERNAME.drivehq.com).

Feel free to create folders, but for simplicity's sake I strongly suggest sticking to all lowercase letters and omitting special characters in your folders and file-names.
Example 1 – If you put a file called sample-file.mp3 in your wwwhome folder, the web path is: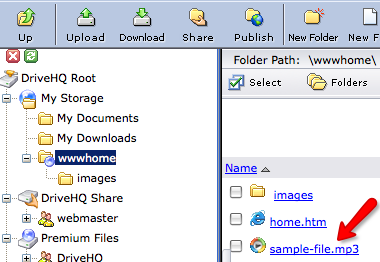 https://YOUR-USERNAME.drivehq.com/sample-file.mp3
Example 2 – If you create a folder in wwwhome called music and put your sample-file.mp3 in there, the path is: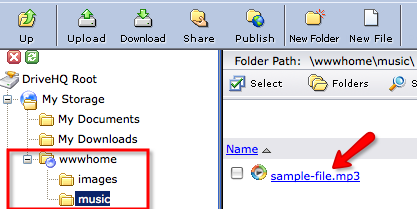 https://YOUR-USERNAME.drivehq.com/music/sample-file.mp3
Adjust your links accordingly and paste into Blogger. Voila! You have direct links.
FTP Access
Once you've registered, you can use FTP to upload files if you do not feel like bothering with their web interface. Just connect to ftp.drivehq.com with your favorite FTP client (such as Filezilla or Cyberduck).

DriveHQ offers 1 GB of storage space, but one catch here is that free accounts only have 1 GB of download bandwidth per month. For most people, this is likely sufficient, but if you know your files will get tons of hits, this is not the best option. Or, you could use a combination of these two methods – use Google Sites for files that will see big traffic and save DriveHQ for seldom-accessed files.
Other Thoughts
Of course, the two methods I present here are not the only possible ways to host files for inclusion with Blogger. There are literally hundreds of free web hosts and file storage services out there. Finding a place to store your files is easy. Finding a good and reliable place to store your files is amazingly difficult.
The vast majority of online storage services either:
Do not allow for direct linking, or…
Expire and delete your files after a certain amount of time or inactivity, or…
Have not been around long enough to be considered tried and true, or…
Try to spam you to death with ads and optional services.
Concerning free web hosts, yes, many of them offer free FTP access. While I applaud this, you need to be careful. The vast majority of free web hosts have a clause in their Terms of Service stating that they are not to be used as file storage. Any accounts found breaching this clause will have their files mercilessly deleted without warning. These companies make the bulk of their money by putting ads on your free site, and file storage/direct linking is simply not profitable for them. You don't want your files disappearing, do you?
That's why I chose Google Sites and DriveHQ for this article. If you know of any other solutions that are free, reliable, simple to use, and allow for direct file linking, please let me know.