Why I Love Apple
August 27, 2007 - Reading time: 3 minutes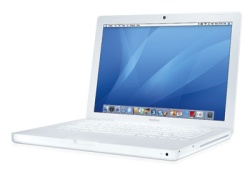 I bought a white Macbook mere hours after they were first released. It's a beautiful machine, and I have enjoyed every moment with it so far. Some of its common uses include: giving presentations to my classes (with Keynote), computer-based music notation, recording musicians, and writing essays (lots of them!). Heck, I even use the built-in camera to record my conducting lessons (via iMovie)!
However, my machine has not been without flaw. Since it's a revision "A" product, I've experienced some of the bugs that have plagued the first generation Macbooks. First of all, my Macbook "mooed," but a firmware update took care of that.
Second of all, the shell around the touchpad (the "palm-rests") became discolored, but I probably should have washed my dirty paws a little better before using the machine. 🙂
Third, my Macbook developed a distracting "screen flicker" problem. I thought I could live with it for a while, but the flickering increased in severity, sometime blacking out the screen for seconds at a time. I had enough.
About two weeks before my complementary one-year warranty expired, I purchased the Applecare extended warranty. Once classes ended, I zipped over to the Kansas City Apple Store and showed the flickering problem to the local techs. "No problem," the "genius" told me, "I've seen this before. We'll send it to Apple to replace the display inverter." This was at 12:30 PM on a Tuesday.
The next morning, my doorbell rang at 10 AM. Upon opening the door, I was greeted a smiling young delivery driver who had a package for me. I thought it was only some books that I had ordered, so imagine my surprise when I opened the package and found… my Macbook!
In less than 24 hours my Macbook had traveled to an Apple repair facility in Tennessee, had some parts replaced, and then sent straight to my doorstep.
That's not all. When I first lifted the Macbook's lid, my first thought was, "This is NOT my laptop!" The discolored areas where my dirty paws had rested were now immaculately white.
I checked the serial number, and to my surprise, it WAS the same laptop. Intrigued, I read the paperwork that Apple prepared for me. They did A LOT more than just fix the screen flicker.
As expected, they replaced the parts required to stop the flickering display.
They "identified an issue with my hard drive" and replaced it with a new one.
They "identified an issue with my battery" and replaced it with a new one.
They noticed the discoloration by the touchpad and replaced that part of the shell for me!
All of this was completed within 24 hours, and none of it cost me an extra penny! All I can say is thank goodness for Applecare.
Apple, you are a model of efficiency, and for going the extra mile to replace those additional parts, you have earned my wholehearted support and recommendation.
And that, my friends, is why I love Apple.