Turn Windows Server 2008 into an Excellent Workstation – Part II – Third Party Software
January 7, 2009 - Reading time: 10 minutes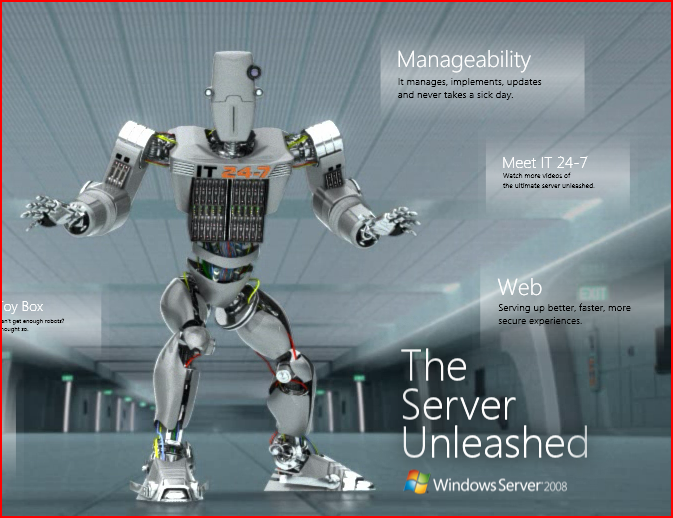 Welcome to the second part of our series on turning Windows Server 2008 into an excellent workstation. If you missed it, please see Part I – The Basics as well as how to get Server 2008 for free (students only).
In this post we will take a look at some third-party software and its compatibility with Server 2008. In no way is this post comprehensive, but it should get you started in figuring out if your software is compatible. When possible, I tried to stick with free software.
This article is from an x86 (32-bit) perspective, though I doubt the x86-64 version differs much.
Free Security Software
Unless you like living dangerously, you should run antivirus software on your Windows machine. As I've written before, I prefer free antivirus software. Unfortunately, not all free antivirus programs will install on a server operating system. While there may be some registry tweaks or other hacks that will allow them to install, I'm not comfortable living with that. Who knows when an update may break compatibility or functionality?
Below are free antivirus and security programs that I have personally verified.
AVG Free Edition –

does not work

Avast Home Edition –

does not work

ClamWin –

WORKS

Comodo Internet Security –

does not work

Malwarebytes' Anti-Malware –

WORKS

PC Tools Free AntiVirus –

WORKS

Returnil Virtual System 2008 Personal Edition –

WORKS

Rising Antivirus –

WORKS
Google Software
All Google software that I have tried installs and works as expected.
Google Desktop –

WORKS

Google Earth 4.3 –

WORKS

Google Picasa 3 –

WORKS

Google SketchUp 7 –

WORKS

Google Talk –

WORKS
Browsers
Good news! All common web browsers that I have tried work without flaw.
Firefox 3 –

WORKS

Google Chrome –

WORKS

Opera 9.6 –

WORKS

Safari 3.2 –

WORKS
Free Media Players
Continuing our good luck streak, every media player that I have tried (so far) works without known issues.
Foobar 2000 v0.9.6 –

WORKS

iTunes –

WORKS

J. River Media Jukebox 12 –

WORKS

MediaMonkey 3.0.6 –

WORKS

Quicktime 7 –

WORKS

Songbird 1.0 –

WORKS

VLC 0.9.8 –

WORKS

Winamp 5.5 –

WORKS
Office Applications
Almost every office-type application that I tried works without flaw. Fortunately, both MS Office 2003 and 2007 work fine, since that would be a deal-breaker for most people.
Abiword –

WORKS

Adobe Reader 9 –

WORKS

Lotus Symphony 1.2 –

does not work

– (It installed correctly on my machine, but would not launch a new document, spreadsheet, or presentation. It it works for you, please let me know.)
Microsoft Office 2003 and 2007 –

WORKS

OpenOffice 3 –

WORKS
Other Utilities
Major victories in this area include recent updates to Skype and the Windows Live Applications that make them compatible with Server 2008.
7-zip –

WORKS

CCleaner –

WORKS

Filezilla –

WORKS

Jing Project –

WORKS

(only after you enable .NET 3.0 – see Part I)
Microsoft Virtual PC –

WORKS

Skype –

WORKS

– (Version 4 BETA works fine. Version 3 was troublesome, though version 3.8.0.139 and later may also work fine.)
Sun xVM VirtualBox –

WORKS

Windows Live Applications –

WORKS

(Yes! Previous versions would not install on Server 2008, but the new updates install and work well.)
uTorrent –

WORKS
Video Games
Admittedly, I am not much of a gamer, but here are a few games that I can personally verify. I especially welcome additional contributions in this area.
Diablo II LOD –

WORKS

(with 1.12 patch or above)
Elder Scrolls IV: Oblivion –

WORKS

(with latest patch)
Guild Wars –

WORKS

Starcraft: Brood War –

WORKS

(with 1.16 patch or above)
Titan Quest (plus Immortal Throne) –

WORKS

Warcraft III: The Frozen Throne –

WORKS

(with latest patch)
As you can see, there is far more green than red, meaning that the overwhelming majority of applications should work with Server 2008. In fact, I'd say that Server 2008 is hardly limited at all. As a general rule, if it works with Vista SP1, it should work with Server 2008. I did not mention it above, but even two professional music applications that I use all the time – Finale 2008 and Reason 4 – work without problems.
Security applications are the main exception. Unless you want to pay for a server-compatible antivirus program, I suggest sticking to PC Tools or Rising antivirus.
Games are the other category that I could not test well, but again, if it works with Vista SP1, it should work with Server 2008. If you find exceptions, or have any other comments or questions, please let me know in the comments below.