TunesBag Stores and Shares Your Music Online – Free Invites
July 13, 2009 - Reading time: 7 minutes
UPDATE: tunesBag is dead.
Currently in beta, tunesBag is a free browser-based media player that allows you to (legally) upload your music, play it online, and share with other people.
Think of tunesBag as an online version of iTunes that grants you access to your full audio library from any computer with an Internet connection. Since it's entirely web based, it lacks features such as CD ripping and iPod syncing, but that's not really the point. What it does offer is the ability to sit down at any computer and immediately have your full music library at your disposal.
Here's the main window. Hard to believe this is all running in a browser, huh?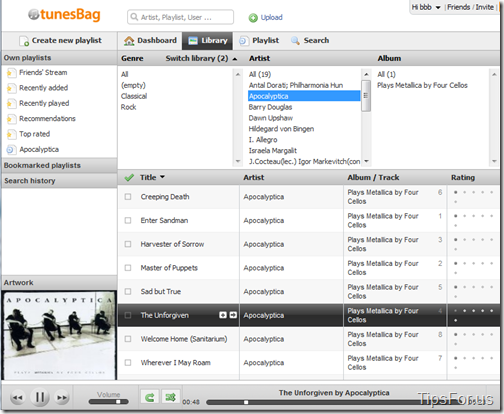 Uploading Your Music
tunesBag offers several ways to upload your music files, including a browser-based uploader, an installable Desktop Uploader (currently Windows only), via e-mail, and directly from elsewhere on the Web.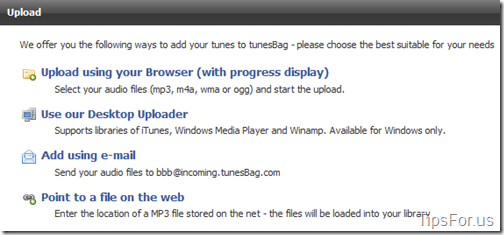 There's currently no hard limit on how much you can upload, though they do ask that you contact them if you plan to upload more than 5-7 GB of files. tunesBag supports MP3, M4A, WMA, and OGG. Audio files laden with DRM are not supported, sorry.
The browser uploader allows for multiple-file uploads, plus creating a playlist for the uploaded files.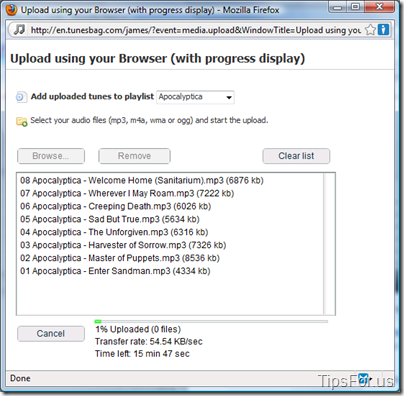 The Desktop Uploader (Windows only) has some more advanced features. Those of you with existing iTunes or Winamp libraries will appreciate the ability to upload your existing library (or just selected playlists). No such love yet for us MediaMonkey fans, but perhaps the developers could consider it for future releases.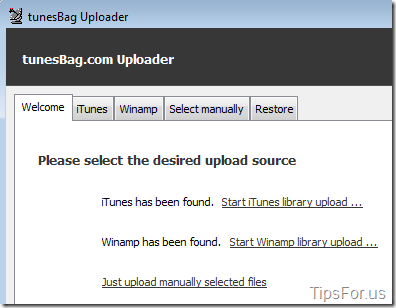 Another cool feature of the Desktop Uploader is that you can use it to completely restore your original audio files back to your computer in case of catastrophic hard disk failure. In this sense, tunesBag functions as a backup for your original files.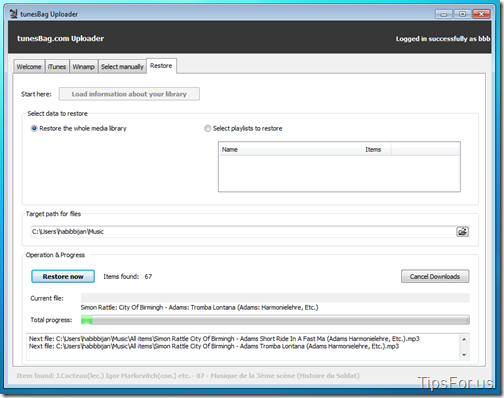 General Usage
After you have uploaded audio files, tunesBag will analyze them for you and create acoustic fingerprints to help you fix any missing or incorrect elements, such as the album name or cover art. This is a pretty handy feature, and tunesBag will present to you multiple options in case there's a potential conflict.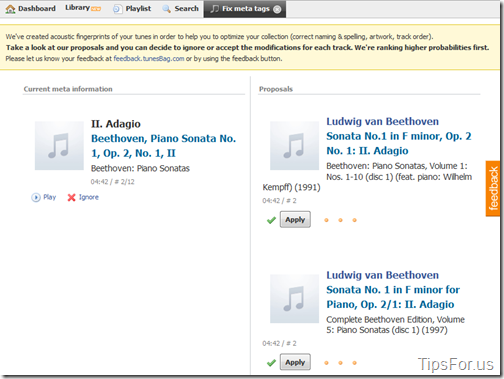 While playing a song, you have control over playback using the transport bar at the bottom of the page, including options for volume, repeat, and randomize.

Just like with most media players, you can search and sort your music library by genre, artist, or album. You can also create any number of playlists that you like.

Whenever you hover over each Title, you can bring up a menu for each song by clicking the arrow. This presents a number of options, such as adding that song to a playlist, commenting, sharing, editing Meta information, and deleting. You can also download the original audio file.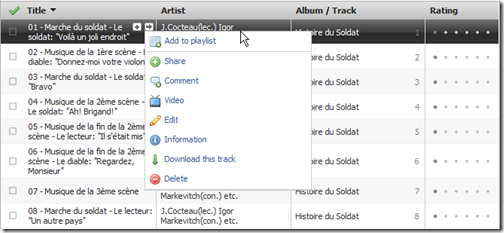 Only the original owner can actually download the original audio file, but this brings up the issue of file sharing.
Sharing
Since tunesBag runs completely online, it seems only natural that the ability to share files should be inherent to the way it works. It is"¦ to an extent.
You can share individual files or full playlists in just about any way imaginable: by e-mail, via social networking sites like Facebook and Twitter, or through a direct link to a sharing page. You can also add friends and view their music directly within tunesBag.
The important aspect here is that friends can only stream your music (and vice-versa) – they cannot download and keep the original files. While I am definitely not a lawyer, the streaming-only nature of tunesBag should keep it protected from the likes of the RIAA. tunesBag is a legal service in Austria, the country in which it operates.
Invitations
While in beta, tunesBag is completely free. While they may eventually offer premium services, hopefully a free version will always exist.
The private beta requires an invitation to join. We have 18 invitations available for TipsFor.us readers. To receive an invitation, just ask for an invite in the comments below. Be sure to leave your valid e-mail address in the e-mail field. We'll contact you as soon as possible. As always, first come, first serve!