DropBoks – Online Storage Simplified (Online Storage Series)
February 25, 2007 - Reading time: 3 minutes
UPDATE: Dropboks is now dead. Kaput. Pushing up digital daisies.

One of the largest complaints I have about on-line storage services is that most of their interfaces are cluttered and confusing. Of these, XDrive is among the worst offenders, but is certainly not alone. On the other hand, one of the slickest interfaces I have seen is the service provided by Box.com. This is currently my favorite service, but while I easily understand the interface, I still had difficulty teaching one of my non-computer-savvy friends how to use it.
For sheer simplicity, the free on-line service offered by DropBoks is hard to beat. Simply create an account, and then you get one gigabyte of free storage complete with a 50 MB file size limit. This bests Box.com's upload limitation of 10 megabytes.
The interface is starkly simple – there is a "Browse" button to upload files, and a "trash" icon to allow for the deletion of files. That's mostly it. Here is a screenshot of a file upload in progress: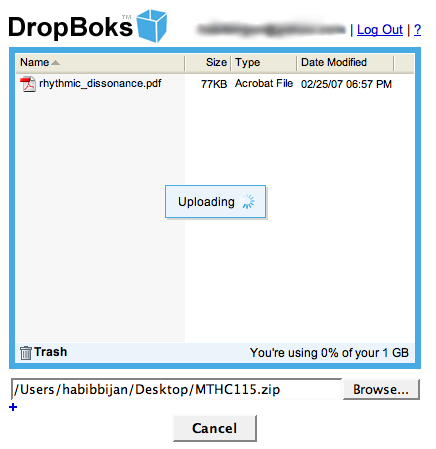 The simplicity of the functionality complements the starkness of the interface. You will not find any options to create folders or "tag" items here – uploading and downloading files forms the bulk of the available operations. Some people will find this restricting, but others (like my non-savvy friend) will appreciate the simplicity. In fact, I'm willing to bet that anyone whose computer literacy exceeds that of a drunken cockroach can successfully use DropBoks. Want to upload a file? Click the "Browse" button. Want to download a file? Double-click (or right-click) it. Want to delete a file? Drag it to the "Trash." Piece of cake.
For those interested, all file transfers are encrypted over HTTPS (SSL).
While I still enjoy Box.com for its added functionality and beautiful interface, I have a growing appreciation for DropBoks. It is now my most recommended on-line storage service of choice, especially to people of dubious computer skills. For the record, their free service is provided without ads, though they encourage small donations ($3) to help keep the service running. That's fair. I hope they are able to stand the test of time.
Related article: On-line Storage Options