MyBloop.com – Unlimited Storage and Bandwidth (Online Storage Series)
September 7, 2008 - Reading time: 5 minutes
UPDATE: As expected, MyBloop is dead.
Now and then an online storage provider comes along and offers features so unrealistic (for free) that one wonders how on earth that company will survive. Nine times out of ten, they do not, and their domain names soon join the endless wasteland of spam parking.
Along comes MyBloop, a free online service that offers supposedly unlimited file storage. According to their FAQ, there are absolutely no limits on storage, bandwidth, or the number of files you can store. Eat your heart out, XDrive.
Let's take a look at some of MyBloop's features:
Unlimited Storage
File upload limit – one gigabyte
Multiple file uploading and downloading
Nothing required to install
File organization – create your own folder hierarchy
Ability to delete, rename, and mark files as private
Ability to stream certain file types (MP3, FLV, WMA, WMV)
File sharing, searching, social networking, and more!
All for FREE
Uploading
MyBloop currently offers two ways to upload files – either through their web-based interface or via their open-source Blooploader utility. Uploaded files are limited to one gigabyte, though supposedly this limit will be removed if you purchase one of their upcoming Pro accounts.
I've stuck to the Flash interface, which is really slick.

Even within the web interface, you can queue multiple files for upload. You can also select to send each file to a specified directory.
All uploaded files are shared publicly by default. However, you may opt to make a file private either upon upload or at any other point by editing its attributes from within the file manager. Note: I found that I was only able to change sharing attributes through their older HTML interface. Since the MyBloop team is still developing features, perhaps this is an issue they will address soon. Or maybe I just missed something! 🙂

Downloading
MyBloop also aims to be one of the premiere sources for finding shared content on the Web. To that extent, they have implemented searching and social networking within the site. You don't even have to be a member of MyBloop to search their stockpile of amassed content. Try it now: go to the MyBloop homepage and search for whatever you like. Downloading, streaming, and linking are all encouraged, even for non-members. Which brings me to my next point….
Not ALL file types are allowed for direct download (by other users). At present, music files can only be streamed, not downloaded (for legal reasons). Still, the MyBloop Player is pretty capable, including playback controls, shuffle, repeat, and volume manipulation. It even handles playlists. Here I am listening to some streaming Mozart: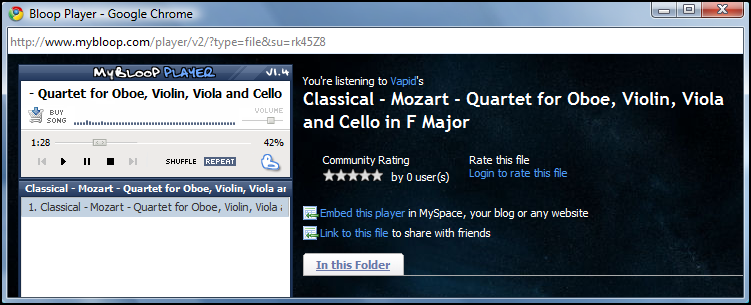 Just for the record, I'll quietly observe that lesser-known audio formats (such as OGG) are not recognized as music, and are thus available for direct download.
MyBloop aims to be a one-stop shop for all your file hosting and sharing needs. I must say, they do a pretty fine job. Since I started using their service, I've begun to rely on them more and more. I only hope that they withstand the test of time.
Considering that they've been around since 2005 (BETA), and had their initial release in 2007, I'd say they're off to a good start. The future is still uncertain, and no one knows what features will be added (or removed) by the upcoming Pro accounts.
Good luck, and happy uploading!
Note: MyBloop is currently only available in the United States, United Kingdom, Canada, Australia, and New Zealand. More countries should be granted access soon.
Enjoy this article? Please subscribe to our RSS feed for future updates!