Make AVG Antivirus Updates Silent
November 21, 2007 - Reading time: 2 minutes
I'm ashamed that I did not notice this sooner. In my earlier post on how to make Avira AntiVir more usable, I described a way to make updates invisible.
Of course, this is also possible with AVG Free Edition, and the process is much easier. I'm documenting it here to help myself remember it in the future.
By default, AVG Antivirus will spawn a new window whenever it updates, thereby interrupting your current task (including breaking any full-screen applications). To quickly and easily prevent this from happening, launch the AVG Control Center and select the Update Manager.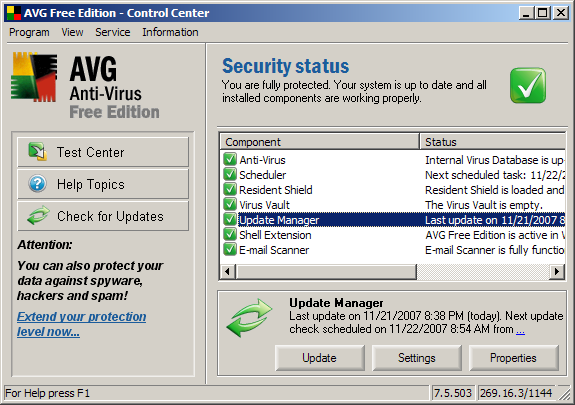 Next, click Properties, and be sure to un-check the box next to "Display information about update process."
Your AVG updates should now be completely silent. Again, I am embarrassed that I did not notice this sooner.