Getting Cozy with Mozy – Brainless Online Storage (Online Storage Series)
March 4, 2007 - Reading time: 8 minutes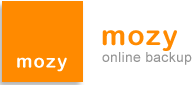 To continue my foray into the world of free on-line storage, today I will take a look at the Mozy on-line backup service.
First of all, what is Mozy and how is it different from other on-line storage services? Like its competitors, Mozy allows for the backing up of one's data on their servers. Think of it as an external hard drive for your computer that resides off-site. I am a fan of off-site storage because I know that my data is safely stored even if a bomb falls on my house.
Mozy differentiates itself in that it is not a stand-alone service like Box.com or DropBoks. Rather, it requires that you download a small software package and install it on your Windows-based computer (update: Mac OS X is now supported as well). If you use Windows exclusively then this is a boon; if you hop around between multiple operating system then this will be a drawback. I'm still hoping for a Linux client, but I'm not holding my breath.
What, then, are some of the benefits? For starters Mozy offers two gigabytes of storage for their free plan, which is quite reasonable. For those interested, they do offer an "unlimited" plan for $5 per month. I am content with the free plan. I have not found a limit on file sizes, which is also a benefit.
Here is how a typical backup scenario works: install the software and set your configuration options. There are a lot of potential options, but in a nutshell you will want to set your file system paths and tell Mozy what types of files you want to archive. Set your options and let Mozy do its thing. See the screenshot below.

There are also options for scheduling backups – you can choose between "automatic" backups when your computer is idle or a more standard daily/weekly scheduled backup time. I appreciate the options for bandwidth throttling and thread priority. If I am busy working at my computer when a scheduled backup begins, it will be transparent rather than bogging down my machine. Nice.
The first backup process will take the longest. Once it is complete, subsequent backups are "differential," meaning that only changed files will be archived. Even if a file is open when a backup kicks in, Mozy will still send it to their servers, which is slick.
Once you have archived files on Mozy's servers, you can find and restore them in two different ways. Since Mozy integrates itself with the Windows operating system, you can simply browse to "My Computer."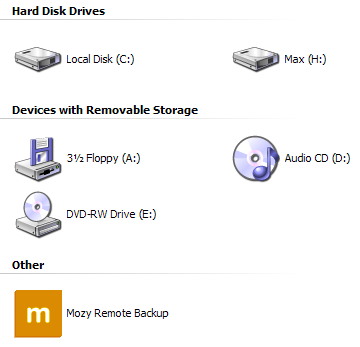 By browsing "Mozy Remote Backup" you will find a file structure exactly like that of your computer, starting with your hard drive and extending to your deepest sub-folders. As handy as this is, it comes up short in that you can only view/restore files to your computer. There is no option to add more files through the Explorer interface. I understand that this is not the expressed purpose of the software, but it seems like it would be a natural extension for those interested. Unfortunately, it is curiously absent. For the record, Xdrive does offer this option. Hopefully the creators of Mozy will add it in the future.
Nevertheless, using the Explorer extension is handy for restoring files. Right-click on a file or folder and choose "Restore." That's it. Your files will be restored to their designated location. Keep in mind that this will overwrite the originals (if they exist).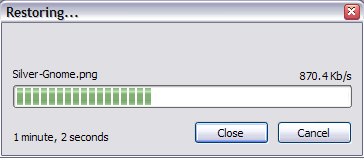 A second way to access archived files is through Mozy's web interface. Log into their web site and click "Restore files" on the left. Select the files that you want to restore, and Mozy will contact you with a link to download the files. In this manner, files that you archive can actually be accessed on any other computer with any operating system, but the backup process must be done on a Windows or OS X machine.

In summary, Mozy offers quite a lot in their free package. For users of MS Windows who are looking for a "set and forget" method of backup for critical files, Mozy is a slam dunk. Once you make the initial configurations, Mozy takes care of the rest and you can rest assured that your data is archived in at least one other location. For users who switch between multiple computers and/or operating systems regularly, a stand-alone storage site is more appropriate. For users in this category, I still recommend DropBoks for its sheer simplicity and Box.com for its elegant interface.
Pros:
Two gigabytes of storage for free
Automatic file backup option – set it once and forget about it
Differential backups – only backup changed files
Encrypted file transfers (for security)
Easy, versatile file restoration
Cons: