Free 100 MB Remote Drive – Who.hasfiles (Online Storage Series)
May 10, 2008 - Reading time: 4 minutes

UPDATE: who.hasfiles.com is now dead. Sad!
I recently started using who.hasfiles.com – a free, 100 MB remote file storage service. Before you start scoffing and lambasting me with insults for what seems like a pitiful amount of space, allow me to explain why I think who.hasfiles is worthwhile. While it is true that 100 MB does not go very far these days, especially when compared to some other free online storage services (such as Box.com, XDrive, and DropBoks), it is the manner in which you access files on who.hasfiles that sets it apart from the rest.
Remote Drive Mapping

Most online storage services are web based, meaning that you must access them through a browser. By contrast, who.hasfiles allows you to map your storage space as a remote drive from within your operating system. You don't have to install anything. Windows, Linux, and Mac OS X are all supported.
There are specific instructions for each operating system on the who.hasfiles website. Since I run all three major operating systems in my household, I've been able to test accessing my storage space from all three platforms. It works.
Windows users can use a nifty instant mapper application to quickly set up access to your 100 MB. The application requires no install and can be deleted afterward.
Usage
Because who.hasfiles integrates directly into your desktop, it also offers the ability to edit and save files directly on the remote server. Need to do some quick editing to an OpenOffice document or spreadsheet? Open the file directly from your mapped storage space! There's no need to copy the file(s) directly to your hard drive, edit, and then re-upload them. Nice!
Because only 100 MB is available for free, don't expect to upload much of your MP3 and movie collection, though there are paid upgrades available ($1 per gigabyte per month)*. Here are a few uses that I've found for who.hasfiles:
keep an updated copy of your bookmarks handy
store a KeePass database that you can easily access from any computer
backing up important documents
quick-and-dirty file sharing between computers
While who.hasfiles focuses on simply storing files, not embedding them into blogs and sharing them with the world, they DO offer a basic sharing service between members.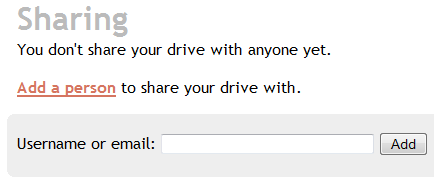 Of course, I'd love to see who.hasfiles offer more than 100 MB for free, but considering the easy integration into the desktop from any major operating system, I can't complain about the stingy amount of space. For now, I just treat it like a glorified floppy drive (remember those?), or maybe like a networked USB flash drive from 2001.
*Note: in addition to increased space, encrypted access to the storage space is part of the paid plan.
Find this article useful? Subscribe to our feed for future updates.