Dropbox: Mini-Review and Invitations (Online Storage Series)
August 12, 2008 - Reading time: 5 minutes
At long last, I have found the online storage solution of my dreams. Dropbox is a service (currently in public beta) that not only seamlessly backs up your data, but can also sync it across multiple computers. Best of all, it all happens without you having to lift a finger.
Why am I so excited about Dropbox? First of all, I classify online storage into a few different categories:
Automated backup (such as Mozy)
Remote Sync (such as Foldershare)
All three types of services have their uses, and Dropbox tickles my fancy (am I allowed to say that?) because it handles all three types with aplomb. To make it even better, Dropbox works on both Windows and Mac systems, and a Linux client is currently in alpha.
Usage
Get this – actually using Dropbox takes almost no effort on your part. Once you install the Dropbox client, it creates a My Dropbox folder inside your Documents. Any files or folders that you put inside the My Dropbox folder will first upload to the Dropbox service and then sync across to any other computers that you have linked. The green check mark next to a folder or file means that it has been successfully uploaded and synced.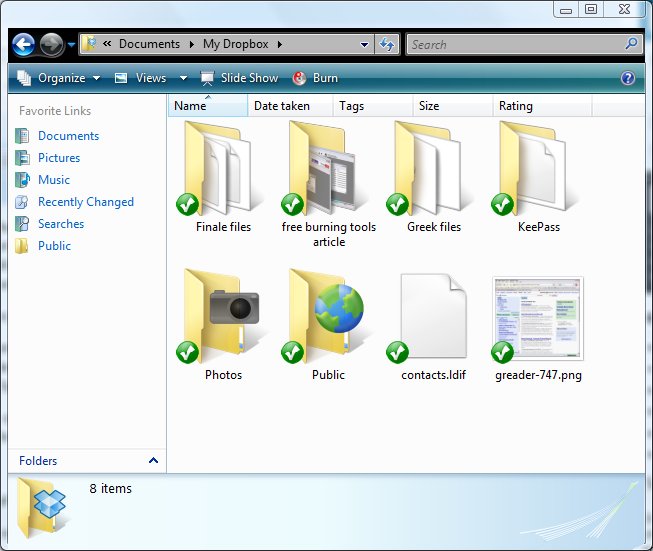 Delete a file on one computer, and it will be deleted first on Dropbox and then on the other linked computers. This is an incredible way to not only make sure your files are continuously backed up, but to also make sure you always have the latest version of your files across multiple computers. Imagine taking your laptop to a coffee shop to get some work done, and when you return home, ALL the data you modified is available on your desktop computer. Nice! No more e-mailing files or dumping everything onto a flash drive.
Even if you only have a single-computer setup, Dropbox is still an effortless way to keep your data backed up.
For those worried about security, Dropbox currently uses the Amazon S3 service to store files. All files are encrypted with AES-256 and all communication occurs over SSL.
Other Features
In addition to being an all-encompassing storage and sync solution, Dropbox has other tricks up its sleeve. For starters, there's a versioning system for keeping track of changes to a file (or grabbing an earlier version in case of an emergency). There's also a nifty web interface, a photo gallery, file sharing capabilities, and more!
If you can't tell, Dropbox is undoubtedly my favorite online storage service, not only for its features, but for its sheer simplicity. It's a service that I have no trouble recommending to others.
Dropbox Invitations!
As I mentioned, Dropbox is currently in beta and requires an invitation. Their beta service provides 2 GB of free storage, and beta users will have slightly more storage capacity than the regular free amount once they drop beta status. So, act now!
TipsFor.us currently has 0 invitations available. Simply post a comment below and we will e-mail you an invitation. First come, first serve! All invitations are gone, folks. Sorry. You can always join the waiting list for the beta. If we receive more invitations, this post will be updated.
If you enjoyed this article, please subscribe to our RSS feed for future updates.