Chrome – A Shiny New Browser from Google
September 2, 2008 - Reading time: 5 minutes
Today, Google launched Chrome, their venture into the realm of web browsers. Still in BETA, Chrome promises to make the Web faster, safer, and easier. Will it, actually? Furthermore, is it worth using over IE, Opera, or the mighty Firefox? It's far too early to tell for sure, but Chrome does have a lot of potential. Let's take a quick look at some of its features.
Note: Chrome is currently only available for Windows XP/Vista. Mac and Linux versions are forthcoming.
User Interface
First things first, Google Chrome's user interface takes a different approach than most browsers. Upon launch, the first thing you notice is an organization of thumbnails based on your most frequently-visited pages. Nice!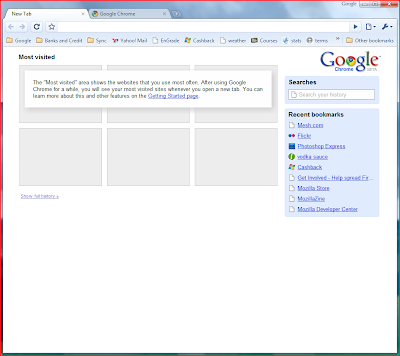 Despite the name, there's not much to Chrome. In fact, it's rather transparent and minimal. There are no menus, no home button (you can enable it in the Options), and only one bar (an integration of the address bar and search bar).
The bookmarks and other options are accessible (via drop-down) on the right side, next to and below the address bar.
Another surprise is that the tabs sit atop the address bar, rather than below it like most browsers. I like it, but it will take some getting used to.
Main Features
One of the highlights of Google Chrome is the ability to go Incognito. This is akin to Private Browsing in Safari – no cookies, history, or anything remains while in Incognito mode. You can easily enable it through the drop-down menu next to the address bar.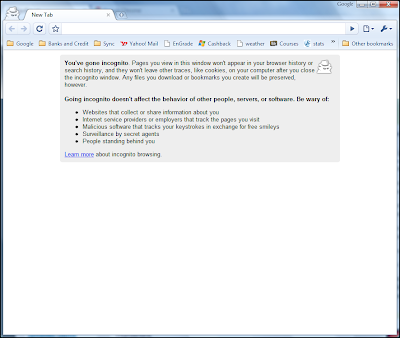 Unfortunately, it spawns an entirely new window, not just a new Incognito tab. Oh well, there's always room for improvement. Incognito mode is intended for uses such as online banking and shopping for secret gifts, though in reality, most people will likely just use it for browsing pornography.
On to other issues – one major change is in the handling of tabs. In Chrome, each tab is an individual process, independent of the browser as a whole. What this means is that you can kill individual tabs without having a misbehaving tab crash the entire browser. Anyone who has ever visited a site that took down the full browser should jump for joy at this prospect. If it works correctly, it will be a major boon that other browsers should incorporate.
Try it now: launch Chrome, and right-click in the title bar area (very top of the browser). It should launch the Task Manager, allowing you to kill individual tabs if needed.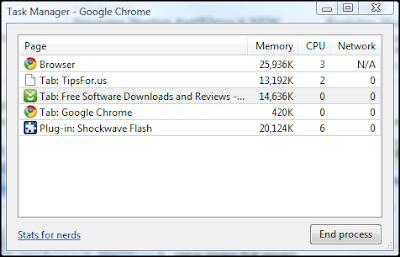 Importing
In case you are wondering, yes, Chrome will import your information from other browsers, such as IE and Firefox (no Opera yet). I chose the Firefox import and found all my bookmarks, history, and saved passwords readily available.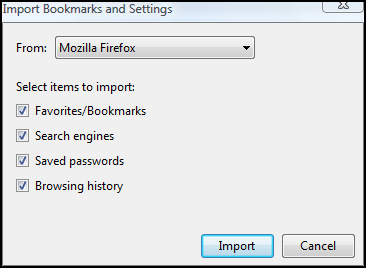 Other
Not all is well in the land of Chrome, however. Considering its BETA status, this is to be expected. For starters, I've had some trouble with sites that are heavily dependent on Java (such as ADrive). Some sites may have compatibility issues with Chrome as well. As an example, Amazon's Askville doesn't seem to care for Chrome yet.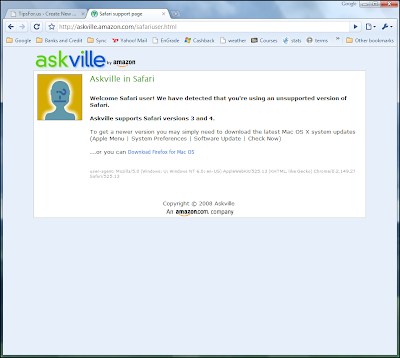 Still, we must remember that Chrome is in its infancy. Issues like these will improve.
All-in-all, I like Google Chrome. It's a welcome addition to the browsing world, and since it is open-source, I hope to see it positively affect its competitors. Giants such as Firefox, Opera, and IE, though they still dominate the field, could stand to learn a thing or two from the upstart Chrome.
For me, I will likely stay true to Firefox for now, but I look forward to watching Chrome mature.
Learn more about Google Chrome (including videos) at its official site.
Have you subscribed to our RSS feed yet? You should!