An Overview of Free Antivirus Programs – Part XI – Rising Antivirus
February 5, 2009 - Reading time: 9 minutes

UPDATE: Rising Antivirus is dead now, unfortunately.
Welcome to the eleventh installment in our series on free antivirus programs. Be sure to also see the Main Overview, which contains links to all the separate reviews.
Up for review today is Rising Antivirus 2009 (version 21.24.20).
Rising Antivirus is a relatively new competitor in the free-antivirus arena. Based in Beijing, Rising does not yet have the big reputation in the West that other security programs enjoy, but that doesn't mean it sucks. Google thinks highly enough of Rising Antivirus to bundle it with Google Pack China, so let's see how it compares.
Installation
At just over a whopping 60 MB, Rising Antivirus 2009 is one of the heftiest downloads in this series, topping even the latest version of AVG by a few megs. Fortunately, no registration, serial number, or activation is required. Just download and install. Some other free antivirus products could learn from this model.
During installation, you can select components to keep or remove. We applaud the inclusion of an automatic USB Flash Disk scanner. Make sure that box is checked.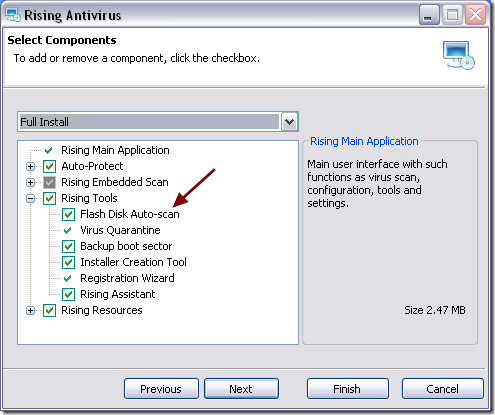 A reboot is recommended after install. Once rebooted, Rising will finalize its setup process and do an initial memory scan. During post-install, you have the option to join Rising Cloud Security (helps them more quickly contain a new malware outbreak). It's better for the Internet in general to participate, but the option is yours. I read the privacy notice and didn't see anything alarming.
For the record, I've installed Rising on everything from Windows 2000 to Windows 7 without problems. It even works on Server 2008.
Interface
Rising Antivirus 2009 has a slick, dark interface. Here's the main screen, featuring tabs across the top and buttons for common actions at the bottom: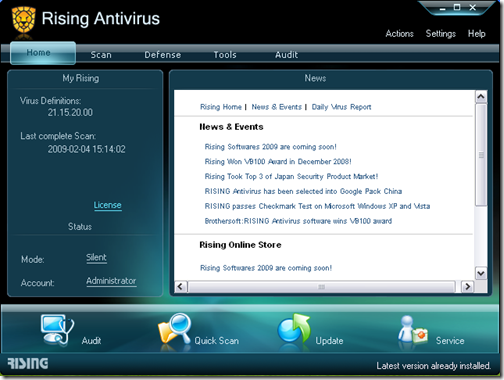 I appreciate the ability to change the Running Mode from Standard to Silent. The fewer interruptions an antivirus program provides, the better.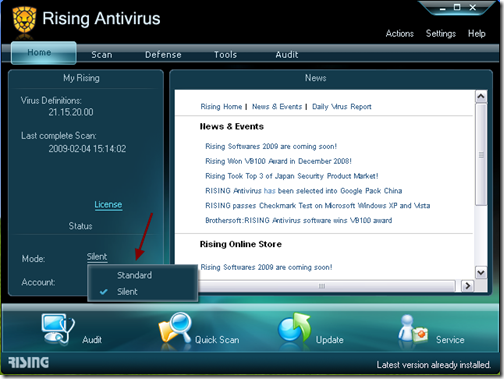 Updating
To check for updates manually, just mash the big Update button on the main screen. Like any antivirus program worth its salt, Rising Antivirus includes an automatic update feature. You can adjust any additional Updating parameters by going to Settings – Schedule SmartUpdate.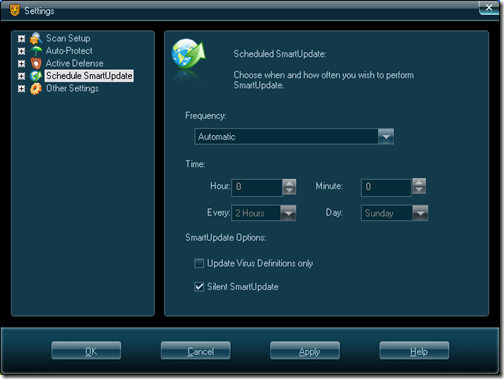 To make sure the updates do not interrupt you or break any full-screen applications, be sure to check the box next to Silent SmartUpdate.
Footprint and Scanning
Rising's resident scanner occupies roughly 8 MB of RAM on my machine. When I trigger a full scan, the memory usage crept upwards of 50 MB – not the lightest program I've tested, but not terrible (unless you scan your computer every two hours). Most importantly, my system feels responsive even during a full scan – a subjective test, but an important one.
Rising offers two main types of scan: a Quick Scan and a Full/Custom Scan. The Quick Scan took mere minutes to run on my machine, whereas the Full Scan allows much more control over which disks and directories to scan, including scanning of memory and the boot sector.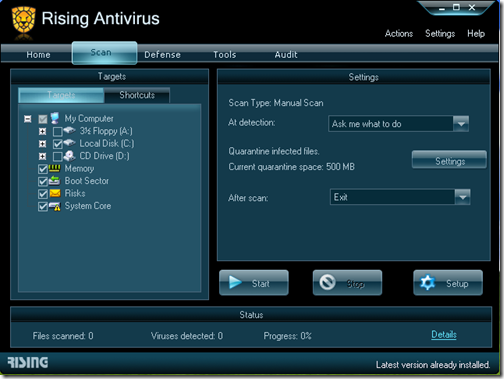 In prior reviews, I calculated how long it took to run a full scan. Since it has been a year since my last entry in this series and the contents of my disks have changed drastically, that test no longer has a valid basis for comparison. Suffice to say that in my subjective testing, Rising's scanning speed seems comparable to its competitors.
Types of Protection
Rising is similar to both AVG and Avast in that it scans for viruses and spyware, but does not include a personal firewall. Main features include:
On-access and on-demand scanners
Spyware detection, blocking, and removal (includes rootkit detection)
E-mail monitor (POP3/SMTP)
USB Flash, CD/DVD, and Network Drive monitor (Nice!)
Embedded Scan (protects Instant Messengers and Download Managers)
Web Trojan Defense
Malicious Behavior Interceptor (watches for program changes)
Like most antivirus programs, Rising includes a right-click targeted scan in the Explorer contextual menu. When performing a targeted scan, Rising will quickly scan the file or folder, then display the results. Dismissing the results screen exits the program. Not bad, but I still prefer Avast's method of handling targeted scans – if nothing is detected, the program automatically exits. Why waste a click?
One handy feature is the Audit option. At a glance, Rising will share just how protected it thinks your computer is, based on its own features. There's not a ton of information, but it will let you know if you have a deficiency, such as not scanning for a while.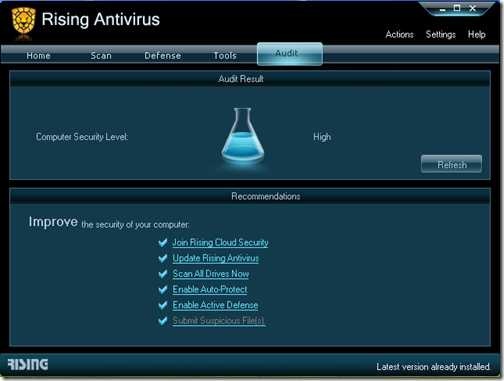 EICAR Test
Here is a link where you can download a harmless test file that should be detected as malicious by antivirus programs. As I've mentioned before, it is NOT a real virus. In order to test the functionality of a program, I download the EICAR test file to my desktop and start counting to see how long it takes the antivirus program to find it. Sooner is always better than later. Let's see how Rising handles it.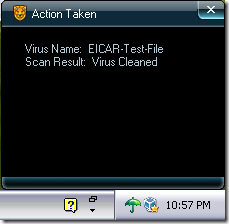 No problem. The EICAR file is by no means a test of effectiveness, but merely whether the antivirus program is functioning and how it handles malware. I should really try to get my hands on a system chock full of viruses for more effective testing.
Final Thoughts
Rising Antivirus 2009 does a lot of things well. The interface is professional, the features are commendable, and the price is just right. Unlike some programs, it doesn't nag you constantly to upgrade to the paid version. I also appreciate how silent you can make it run, thereby making it an ideal install-and-forget security program.
Feature-wise, I'd say that Rising is comparable to Avast. Both include anti-rootkit protection by default (are you listening, AVG?), both have IM and POP3/SMTP mail protection, and both include specific plug-ins for protecting MS Outlook.
One killer feature of Rising is the inclusion of the USB Flash auto-scanner. More programs need to do this by default, as we have already seen a number of malware programs that spread via Flash drives.
One area that remains yet to be seen is the long-term performance of the software. Rising Free Edition is still a pretty young product, and its performance record is short. To its credit, it has already won three VB100 awards (all in 2008). Hopefully it will continue piling on awards and accolades.
Rising Antivirus is near the top of my personal recommendation list. As to whether it will de-throne Avast on my XP machine remains to be seen (though it IS my current choice on Server 2008).
Last Christmas, I set up a new machine for my parents, and I installed Rising Antivirus on it since I didn't want them to have to deal with re-registering Avast every year. I'm not sure I can give any higher recommendation than that.