An Overview of Free Antivirus Programs – Part X – Blink Personal Edition
February 2, 2008 - Reading time: 12 minutes
Welcome to the tenth installment in our series on free antivirus programs. Be sure to also see:
Up for review today is Blink Personal Edition. Review version: 3.5.5 (Rule version 1435)
The Blink antivirus program is produced by eEye Digital Security, a company more well-known in the enterprise world than in the personal sector. In fact, I was not even aware that they produced a "personal" edition of their software until a reader pointed it out to me (thanks Andy!). Back in 2001, eEye was the first to discover the "Code Red" worm, and their customer list sports an impressive array of companies, including Visa, Harvard University, and the US Department of Justice.
With that in mind, let's evaluate their free edition of Blink. Like the McAfee/AOL Special Edition, Blink Personal includes an antivirus program, anti-spyware, and a personal firewall. Be sure to download the "free" edition, and not just a trial of the professional version. Unfortunately, the free edition is only available to users in the continental USA and Canada. Other users will only receive a 30-day trial. From their website:
If you are located within the continental United States or Canada your subscription license will be valid for a period of 1 year from the date of activation. At the end of the 1 year license period, you have the option to purchase another subscription to maintain the protection you will have grown to trust.

If you are located outside of the locations noted above, you will receive a 30-day trial of Blink Personal.
Installation – In order to download Blink, you must provide an e-mail address. From what I have been reading, prior versions of Blink required product activation after installation. I am pleased that activation is no longer required. The download is hefty – weighing in at close to 44 MB.
During installation, Blink will ask for a serial number (not required). Without a serial, Blink will activate a subscription valid for one year.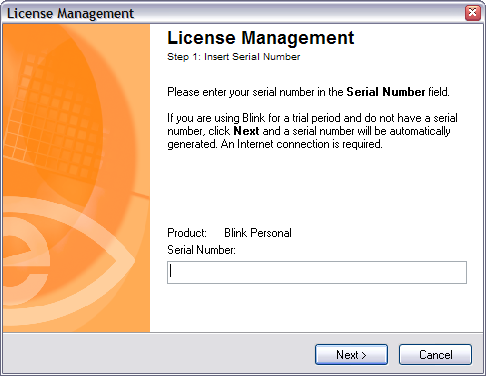 The verbiage on their website is confusing regarding this (my emphasis added):
At the end of the 1 year license period, you have the option to purchase another subscription….
Does this mean that one cannot simply re-register on their website in order to unlock another yearly subscription, or is this in reality only a one-year free trial? I suspect the former is the case, but I wish they would use the word "renew" instead of "purchase" if they truly intend to offer a "free" version.
A reboot is required after installation.
Interface – Blink's interface resembles a standard Windows utility, with a navigation panel on the left and a main window on the left. While it is easy to navigate, my main complaint is that the white text on the light background is difficult to read.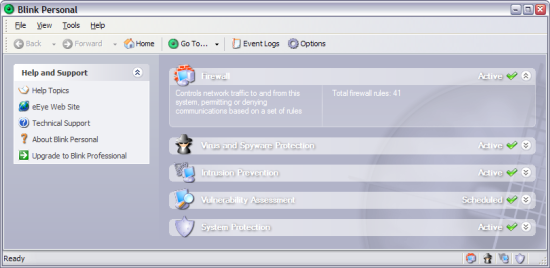 I like the ability to set its running mode to "silent" by right-clicking the system tray icon. This way it will not bother you if you are watching a movie or playing a video game.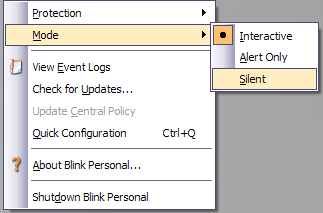 Updating – Almost every antivirus program I have reviewed so far includes an "update" button somewhere on the main window. Blink, unfortunately, is not one of them. This is not a big deal, but seems like a strange omission to me.
To manually check for updates, navigate to the Tools menu first.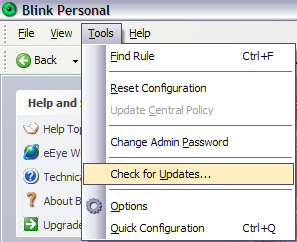 Like most every other free program, Blink includes an automatic updating feature. You may choose to have the updater check daily or only on the day/time that you specify.

Footprint and Scanning – Blink's resident scanner only occupies roughly 7 MB of RAM on my machine. When I activated a full scan, Blink's memory usage unbelievably dropped below 5 MB! Impressive.
Blink offers three different types of scans: Quick scan, Full scan, and a Custom scan. I love the ability to set a scan priority – with the slider set to idle, I could still tell that a system scan was running, but my computer remained responsive.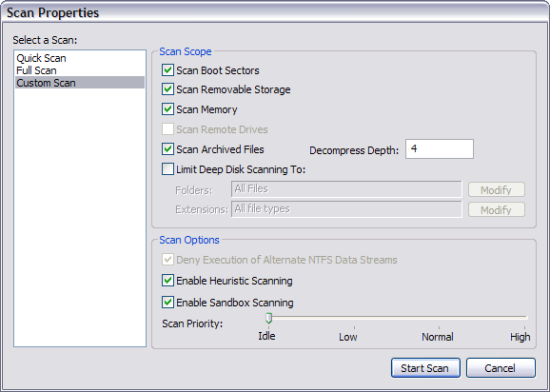 With priority set to idle, Blink is no speed demon. Running a complete scan on my machine (over 400 GB of files) took just under two hours, making it slower than most competing free programs. Given the added weight of the spyware scan, this is expected (and acceptable). I did not scan with priority set to normal or high.
Curiously, Blink identified part of the open-source 7-zip application as infected with W32/Istbar.CXB. Considering that none of the other antivirus programs that I tested came to the same conclusion, I can only assume this is a false positive.
Types of Protection – The number of features offered is definitely one of Blink's strengths. The inclusion of spyware detection and a personal firewall puts it in the same league as McAfee/AOL Special Edition. Blink includes:
On-access and on-demand scanners
Spyware detection, blocking, and removal
Online identity protection (anti-phishing)
Built-in firewall (includes stealth and passive modes)
Computer settings protection (protects applications and the Windows registry)
Missing patch protection (for media players)
Vulnerability assessment (an awesome tool!)
Like most programs, Blink includes a targeted scan in the "right-click" explorer menu. Performing a targeted scan is a mult-step process. First, Blink will spawn a settings window.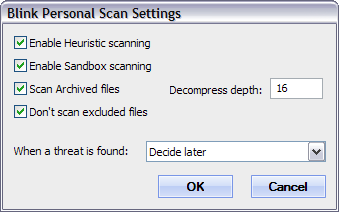 Secondly, a scan window will open that must be closed manually, even if no threats are found. I prefer Avast's current method – a targeted scan spawns a scanning window, but the window automatically closes if no threat is detected.
The rules-based firewall performs admirably, but will require some tinkering and training, as there are rules available for both applications and the entire system. Many common rules are already in place and can be activated or de-activated with a click of the mouse.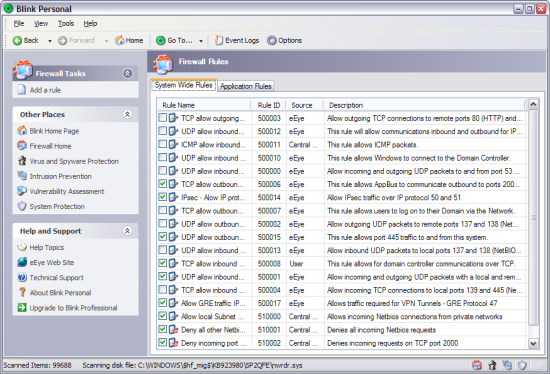 I appreciate the ability to create custom firewall rules with a wizard.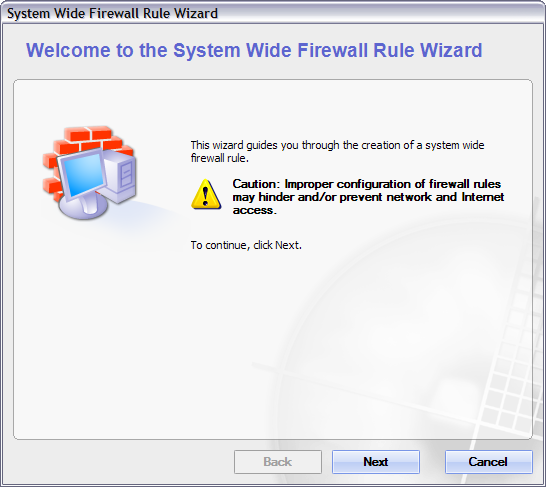 One delightful feature that I have not found in any other free programs so far is the ability to create a Vulnerability Report customized to your system. Upon your demand, Blink will generate a highly-detailed report categorizing any security vulnerabilities by risk (high to low). All information regarding hardware, ports, and services will be displayed.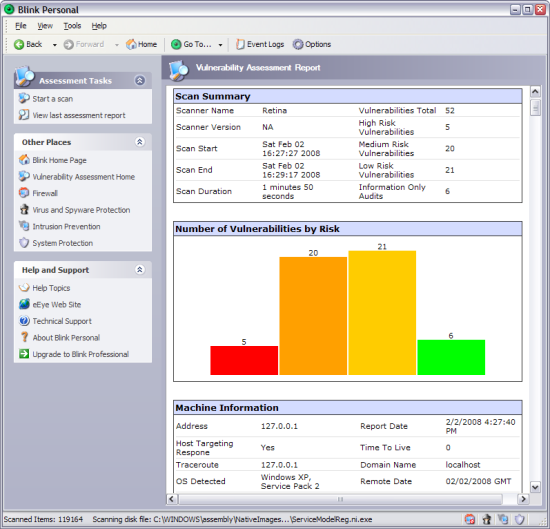 I'm a fairly literate guy when it comes to personal computer security, so it damages my pride to say that Blink found five "high-risk" vulnerabilities. 🙂 Fortunately, four of them were related to out-dated media players (such as Quicktime). My fifth vulnerability was related to anonymous access to the registry, something more important in a production environment than in a personal environment. Blink even offers instructions on how to fix any vulnerabilities. Nice!
EICAR Test – Here is a link where you can download a harmless test file that should be detected as malicious by antivirus programs. As I've mentioned before, it is NOT a real virus. In order to test the effectiveness of a program, I download the EICAR test file to my desktop and start counting to see how long it takes the antivirus program to find it. Sooner is always better than later. Let's see what Blink thinks of it.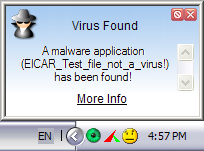 Blink snagged it before it could even touch the desktop. Excellent.
Final Thoughts – Blink is a competent, yet complex, tool. Like McAfee/AOL Special Edition, Blink will appeal to users who do not wish to install and maintain separate antivirus, antispyware, and firewall applications.
Blink does a lot of things well. It's light on resources, feature-laden, and offers a massive amount of customization. Its Vulnerability Report alone is unparalleled in the free antivirus arena.
However, with power comes responsibility. Blink's high level of customization also means that it takes a more knowledgeable user to fully harness its abilities. This is not an ideal "install and forget" security package for your grandmother, but more advanced users will appreciate the level of control given to them.
How about subscribing to my feed? It's free!