An Overview of Free Antivirus Programs – Part VIII – ClamWin
December 12, 2007 - Reading time: 8 minutes
Welcome to the eighth installment in our series on free antivirus programs. Be sure to also see:
On the docket today is ClamWin Free Antivirus. Review version: 0.91.2
Product link: ClamWin Free Antivirus
A quick note – ClamWin is unique among all the free products that I have reviewed thus far because it is open-source. Due to its open-source nature, there are absolutely no nag screens, advertisements, registration requirements, licenses, expirations, or paid upgrades. Sweet.
ClamWin is also similar to the free version of BitDefender in that it currently does not have an "on-access" scanner.
Installation – Installing ClamWin is as easy as falling off a horse. As mentioned before, there are no registration requirements, serial numbers, or any other hurdles. Just install and start using. Due to the lack of "on access" scanner, Windows Security Center does not recognize ClamWin as a valid antivirus program.
Interface – You won't find any flashy interface here. ClamWin is designed for one main purpose – scanning your drive(s) for viruses, and that's what the main interface presents. Here it is: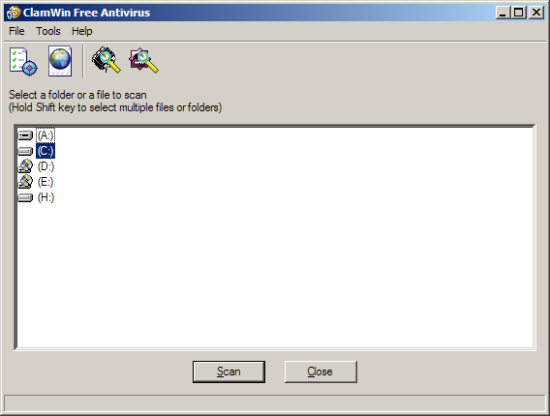 Can you say "barebones?" The scanning window is very stark as well.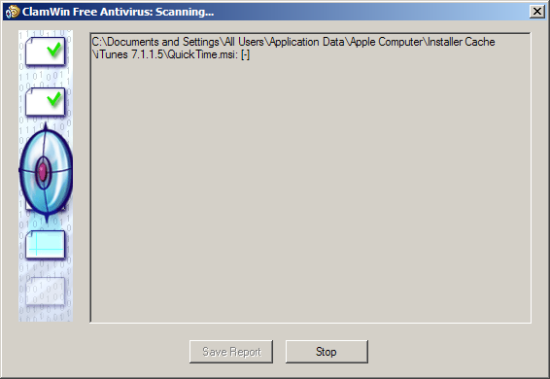 Don't let the start interface fool you – there are a number of configuration options available under the hood.
Updating – Holy updates, ClamWin! When they say on their website that the virus definitions for ClamWin are "usually updated several times a day," they mean it! You can choose update settings based on hourly, daily, weekday, or weekly intervals.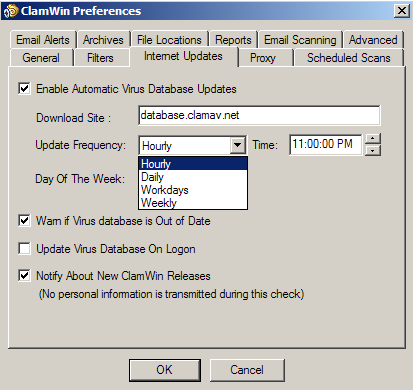 Once I set it to "hourly," I began noticing update notifications like these almost every hour.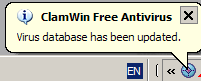 Of course, you can choose to disable automatic updates and update manually if you prefer, though I don't recommend it.
Footprint and Scanning – Due to the lack on an on-access scanner, ClamWin consumes almost no resources. It resides in the system tray, updating itself like mad and patiently waiting for you to tell it to do something.
Scanning, on the other hand, is a slightly different story. While my system remained responsive during a scan, ClamWin's scanning time is by far the slowest of all the programs I have tested so far. For starters, there is not a one-click "complete" scan option – but it IS possible to just shift-click the drives that you wish to scan. Simply scanning just one of my drives took hours. Whereas most programs can scan my full system in just over an hour (over 400 GB of files), I estimate that it would take six hours or more with ClamWin. Of course, your mileage may vary.
Scanning time is by far ClamWin's weakest area, but due to its open-source nature I suspect that it will improve in the future.
Types of Protection – As I mentioned, ClamWin does not currently have an on-access scanner. Its main purpose is to function as an on-demand scanner, just like the free edition of BitDefender. However, ClamWin surpasses BitDefender in that it offers integration with Microsoft Outlook. From what I can tell, ClamWin only supports Outlook for POP3 mail protection, and not other programs such as Thunderbird. Again, this is a feature that has room to grow, and I suspect that it will have support for open-source mail clients in the future.
ClamWin has the ability to scan memory, and also integrates into the "right-click" explorer menu for targeted on-demand scanning.
EICAR Test – Here is a link where you can download a harmless test file that should be detected as malicious by antivirus programs. As I've mentioned before, it is NOT a real virus. In order to test the effectiveness of a program, I download the EICAR test file to my desktop and start counting to see how long it takes the antivirus program to find it.
As with BitDefender, this particular test is invalid due to the lack on an on-access scanner. Even so, we can see if the targeted on-demand scanner finds it.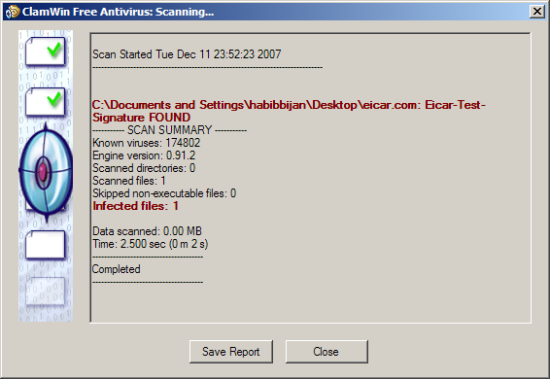 Yes it does. Be sure to check your preferences in order to tell ClamWin what to do with infected files. There are three options available: report only, remove, or move to quarantine.
Final Thoughts – ClamWin is an interesting choice in the free antivirus arena. I applaud its open-source nature and its numerous configuration options. The slow scanning speed is a letdown, but it makes up for it with its manic frequency of updates.
If you can live without an on-access scanner, then perhaps ClamWin is right for you. If you have careful surfing habits and regularly scan executable files before you run them, you probably won't miss the on-access scanner. Just maintain vigilance and set a scheduled scan every day/week.
For most people, though, the lack of an on-access scanner is certainly a limitation at this point. The good news is that an on-access scanner is in active development. Once it is unleashed, I suspect that ClamWin will turn many heads in the free antivirus arena. I look forward to that day.
Enjoying this series? Please subscribe to my feed for future updates. It's free!