An Overview of Free Antivirus Programs – Part VII – Avira AntiVir PersonalEdition Classic
December 8, 2007 - Reading time: 7 minutes
Welcome to the seventh installment in our series on free antivirus programs. Be sure to also see:
Up for examination today is the free version of Avira AntiVir. Review version: 7.06.00.270
Product link: AntiVir PersonalEdition Classic
Installation – Like AVG, AntiVir is one of those rare programs that does not require registration, nor does it require a reboot after installation. Yay!
However, during installation the program will generate a random serial number tied to a license.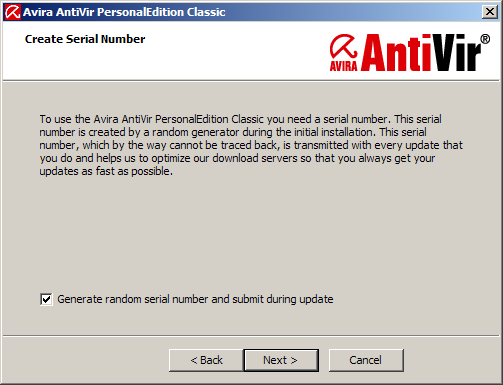 After installation, I noticed that my license is valid until the end of May 2008. I assume that acquiring another free license is simple, but I have no experience with it (yet). As with AVG and Avast, Windows Security Center recognizes AntiVir as a valid antivirus program.
Interface – AntiVir sports a clean, easy-to-understand tabbed interface. Here is the main program window: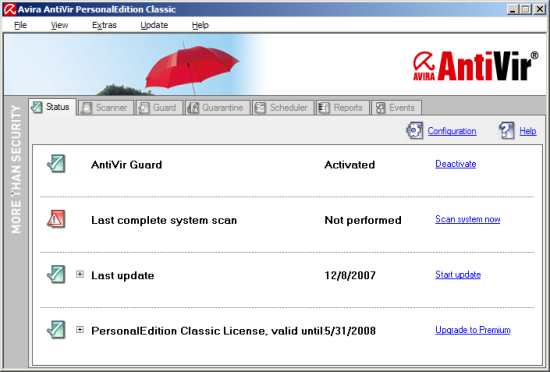 As you can see, the tabs across the top control the various elements of the program. Here is what scanning looks like: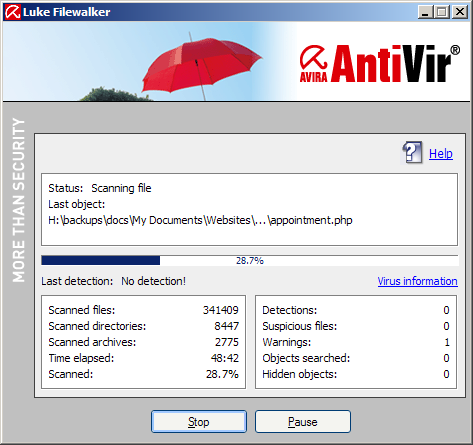 Updating – Like most of its competitors, AntiVir comes with an automatic update feature. By default, it will try to update itself every 24 hours. If you want to edit its settings, navigate to the "Scheduler." Thankfully, you can also configure AntiVir to update itself invisibly by editing the "Display Mode."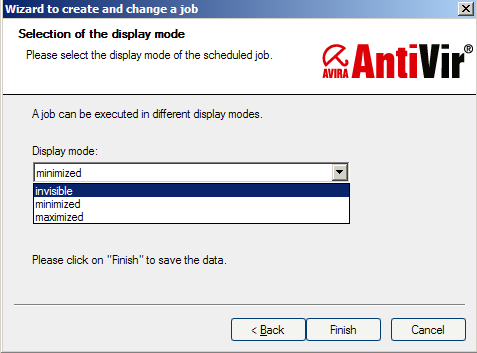 One note about updates – the free edition of AntiVir will spawn a window urging you to upgrade to the paid version. Do they have the right to do this? Yes. Is it annoying? Yes. Is there a way to suppress it? Yes. Should you suppress it? I'll leave that up to you.
Footprint and Scanning – Like AVG, AntiVir is light on system resources. I have not noticed any slowdowns during normal operations. Running a full scan showed some strain, but the system was still definitely usable.
Speaking of scans, a full scan took one hour and six minutes on my system (over 400 GB worth of files), making its scanning speed comparable to Avast, AVG, and BitDefender.
One suggestion – turn on "expert mode" in the program's configuration, as this will yield many more options for scanning and reporting. You can also disable the short audible alert that AntiVir plays if it finds a virus.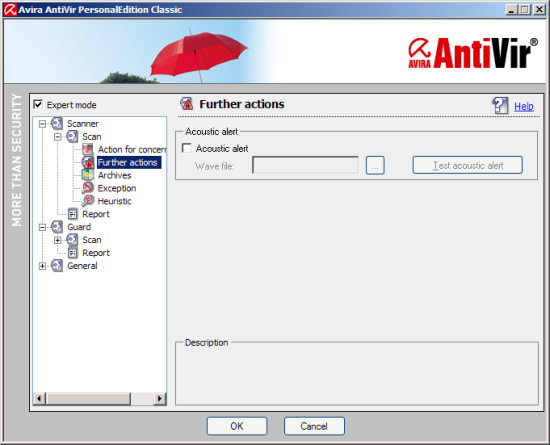 Types of Protection – The free version of AntiVir comes with both an on-demand and an on-access scanner. The main element separating it from both AVG and Avast is the lack of a POP3 e-mail scanner. If you access e-mail through a program such as Outlook or Thunderbird, this may be a deal breaker for you. On the other hand, if you rely on webmail (such as Gmail or Yahoo), you have no need for a POP3 scanner.
Like most programs, AntiVir integrates a targeted scanning feature into the "right-click" explorer menu.
EICAR Test – Here is a link where you can download a harmless test file that should be detected as malicious by antivirus programs. As I've mentioned before, it is NOT a real virus. In order to test the effectiveness of a program, I download the EICAR test file to my desktop and start counting to see how long it takes the antivirus program to find it. Sooner is always better than later. Let's see what AntiVir thinks of it.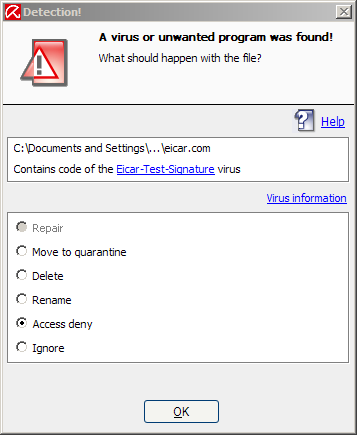 As soon as the file hit the desktop, AntiVir snagged it. This is good news, but would have been more impressive if it had prevented the file from downloading at all (like Avast did). Still, I can't complain.
Final Thoughts – Avira AntiVir is undoubtedly one of the top contenders in the free antivirus arena. Not only is it a breeze to use, its detection rate has proven stellar in the past. This comes as no surprise considering that both the free and paid versions of AntiVir use the same detection engine. For more information on past detection-rate performance, please see av-comparatives.
The two potential downfalls of AntiVir are the pop-up following every update and the lack of an e-mail scanner. If you can live with the pop-up (or just disable it), and have no need for POP3 mail scanning, AntiVir should be your top choice.
Have you subscribed to my feed yet? What are you waiting for? Christmas?