An Overview of Free Antivirus Programs – Part VI – EAV Antivirus Suite Free Edition
December 8, 2007 - Reading time: 7 minutes
Welcome to the sixth installment in our series on free antivirus programs. Be sure to also see:
What's in store today? Answer: a brief look at the free EAV Antivirus Suite. I say "brief" because after having this software installed on my system for only one day, I am already eager to remove it!
Review version: 5.42
Product link: EAV at download.com (Why am I linking to download.com? Because they do.)
Installation – If you want to download and install the free version of EAV Antivirus, good luck finding it on their main website. I actually found it on download.com, which is probably how most people find it, considering that I could not find mention of the free version on their own website.
Anyway, the installer is tiny – under two megabytes. What can EAV pack into 1.62 MB? Let's find out.
Interface – There's not much to EAV's interface. If you like stark simplicity, you'll feel at home.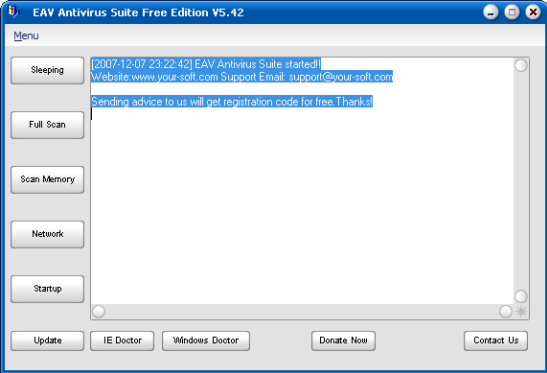 Curiously, clicking "Full Scan" does not start a full scan. Instead, it brings up a separate window in which you must choose the file path that you wish to scan. Fortunately, they include an "all disks" checkbox, but it is not selected by default.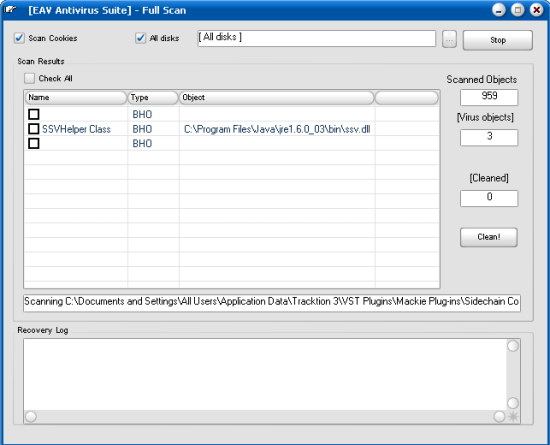 As you can see from the screenshot above, EAV supposedly found three viruses. One of them is a required component for Java (false positive), and I have no idea what the other two are supposed to be. EAV is certainly not telling me! Should I delete them? No.
Updating – As of now, there are NO separate virus definition updates. In fact, clicking the "update" button simply launches your default browser and takes you back to the download.com page! Therefore, if you want an update, you must re-install the entire program. Ridiculous.
Footprint and Scanning – One nice thing is that EAV is extremely lean on system resources. As I type this, EAV is running a full scan, and my CPU usage only occasionally rises higher than 0%. Nice.
Whether or not EAV is actually doing anything useful (given the false positives that it's already "found") remains to be seen.
EAV lacks integration with the "right-click" explorer menu.
Types of Protection – From what I can tell, EAV only provides an on-demand scanner, though the ability to also scan memory is appreciated.
The included IE Doctor and Windows Doctor are perplexing. They appear to modify settings for internet explorer and the windows registry. Here is a screenshot of the Windows Doctor.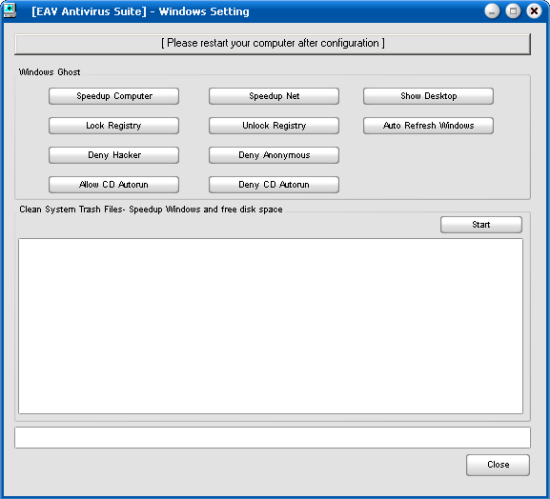 Pardon me for objecting, but I don't dare execute any task that will modify my registry without knowing explicitly what it will do! I understand some of these registry hacks, but others are too vague. For instance, what does "Speedup Computer" mean? Perhaps I should consult the Help manual.
Ah, here we go, here is the explanation taken literally from the Help manual:
Speed Computer – make your computer running fast by modifying system configuration
Oh, thanks! That explains everything! If you're going to make my computer running fast, you better start explaining me before I clicking you. 🙂 Language issues aside, more explanation would be nice.
EICAR Test – Here is a link where you can download a harmless test file that should be detected as malicious by antivirus programs. As I've mentioned before, it is NOT a real virus. In order to test the effectiveness of a program, I download the EICAR test file to my desktop and start counting to see how long it takes the antivirus program to find it. Sooner is always better than later.
How does EAV fare? It doesn't find the test virus AT ALL! That's right. No amount of scanning made EAV find the test virus, though it did tell me that one of my Nvidia video driver components was a virus. Wrong again!
Final Thoughts – Now that I have installed and used this program, I'm not quite sure why they call it a "suite," since there's not much to it.
Would I recommend EAV? Let's see – false positives, lack of incremental updates, barebones features, failure to detect test virus, and vague, poorly-written documentation…
Not recommended. Hopefully it will improve in the future, but considering the quality of other free antivirus programs (such as AVG and Avast), EAV is currently not worth using.
Find this series entertaining? Subscribe to my feed for free updates!