An Overview of Free Antivirus Programs – Part V – BitDefender Free Edition
December 7, 2007 - Reading time: 7 minutes
Welcome to the fifth installment in our series on free antivirus programs. Be sure to also see:
On the inspection table today is the free version of BitDefender. Review version: v10 (build 247)
Product link: BitDefender 10 Free Edition
First, a quick note – the free version of BitDefender lacks an "on-access" scanner. This means that BitDefender does not provide active protection from viruses – it only detects viruses when you manually scan for them. They ask that you upgrade to a paid version if you want more than just an "on-demand" scanner. For some people, this is an immediate turn-off. If you trust your online habits and are careful about manually scanning items, the free version of BitDefender may be all that you need.
Installation – In order to download BitDefender, you must provide them with a valid e-mail address. Once you do so, you will receive a download link in the e-mail address that you provide.
During the installation, BitDefender is pre-registered with a key that will eventually expire. Mine is valid for 9 months. After the key expires, you must contact them to receive a new key. While this is acceptable (given that the product is free), I prefer an installation that requires no registration at all.
Installation requires a reboot. The first update than I ran (which must have been major) required a reboot as well.
Interface – BitDefender takes the opposite approach to Avast with regard to interface design – while Avast's is stylish and modern, Bitdefender's is professional and minimal. Here is the main program window, featuring a dual-tabbed design: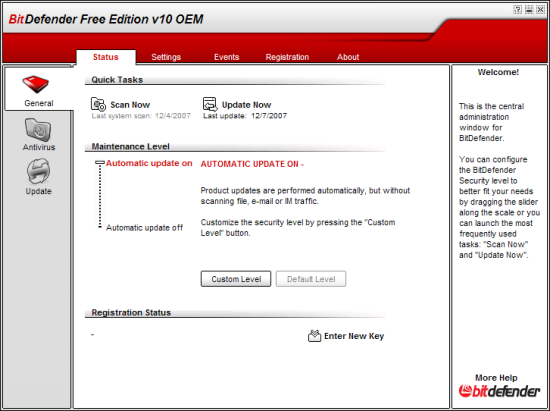 Supposedly, the interface can be "skinned," though only one other skin comes installed by default, and all it does is turn the red color into blue.
Updating – BitDefender comes with an automatic update feature that is enabled by default, and will check for new updates every hour. You can change the update frequency if you want, but I see no trouble with leaving it as it is.
I like that BitDefender offers a "silent" update feature, though you can set it to prompt if you want. Here is a screenshot of the "update settings" page:
Footprint and Scanning – If you are looking for a free antivirus program that does not suck away system resources, you will find it hard to beat BitDefender. In fact, the minimum requirement is only a Pentium MMX 200 MHz processor and 64 MB of RAM. Since there is no on-access scanner, the program just sits silently in the system tray, idly waiting for you to call upon it.
I love the options that BitDefender provides when setting up a system scan. Not only can you choose the priority and depth of the scan, you can also have it run in the system tray. Nice! Like AVG, you can tell BitDefender to automatically shut down the computer after a scan. Those of you who start a system scan before you go to bed will appreciate this option. Here's a screenshot: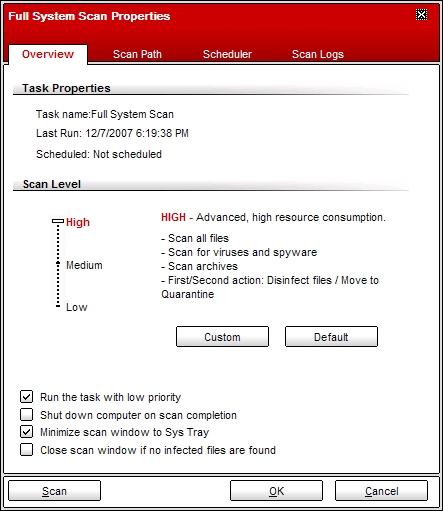 A full scan of my system (over 400 GB of files) took just over an hour. This speed is comparable to both Avast and AVG.
Types of Protection – As mentioned before, BitDefender Free only provides an on-demand scanner, meaning that you must manually scan files. Fortunately, targeted scanning is integrated into the "right-click" explorer menu, making quick scanning of downloaded files easier.
The on-demand scanner does have a number of different features, including a memory scan and a "rootkit" scan.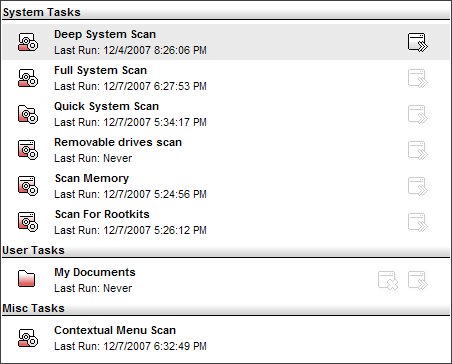 EICAR Test – Here is a link where you can download a harmless test file that should be detected as malicious by antivirus programs. As I've mentioned before, it is NOT a real virus. In order to test the effectiveness of a program, I download the EICAR test file to my desktop and start counting to see how long it takes the antivirus program to find it.
In BitDefender's case, this test is not valid because of the lack of on-access scanner. Still, we can test to see if the targeted on-demand scanner will find it.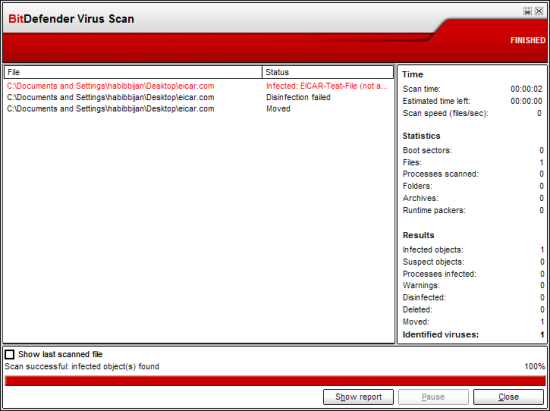 Indeed, it does. The targeted scan immediately moves the file to quarantine as well.
Final Thoughts – If you can live without an on-access scanner, BitDefender is a good option. Obviously, the main point of this program is to entice users to eventually upgrade to a paid version, but for some people the free version may be sufficient. If you must have an on-access scanner, please look elsewhere.
The free version of BitDefender uses the same scanning engine as the paid version, and considering that this engine has performed very well in the past, this makes BitDefender an attractive choice. Given the other benefits, such as the very small footprint, you certainly get a lot for your money.
Users who need more comprehensive protection (such as an on-access and e-mail scanner) should look try a different program, such as Avast or AVG. Power users who rely only on webmail and who schedule a daily scan could potentially use BitDefender as an "install and forget" program. Either way, it's another solid offering in the free antivirus world.