An Overview of Free Antivirus Programs – Part IV – Avast 4 Home Edition
December 4, 2007 - Reading time: 8 minutes
Here is the fourth installment in our series on free antivirus programs. Be sure to also see:
Up for review today is the free Avast 4 Home Edition. Review version: 4.7 (build 4.7.1074)
Product link: Avast Home Edition
Installation – Yes, Avast is indeed free, but you must register it after 60 days if you want to continue using the program. Registration is free, and the license that you receive will be valid for one year. After that, you must register again. Get the idea?
While I would prefer not to register at all, it's difficult to complain considering that the product is free. Is the registration procedure worth it to use Avast? Let's find out.

Installation is easy and requires a reboot when finished. After the reboot, you will notice two blue icons in your system tray – one for the on-access scanner and one for the Virus Recovery Database (VRDB).
Essentially, the VRDB stores information about the current state of your files. In case of an infection, the VRDB can help restore clean versions of them. By default, the VRDB only generates while the computer is idle, so it doesn't hurt system performance to leave it enabled. If you want to hide the VRDB icon, just right-click it and choose to merge it with the main Avast icon.
Interface – Avast has by default the wackiest, most "modern" interface of all the programs I've tried so far. Here is how it looks by default:

If you do not like how it looks, fear not, for there are dozens of skins available, most of which are made by third parties. Even though I'm no fan of Vista, I kind of like the aVist skin. Here's how it looks: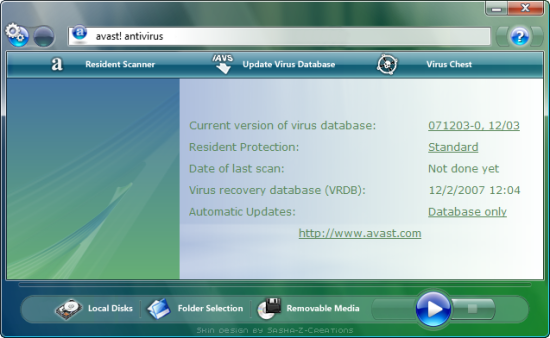 No matter what skin you choose, know that Avast has a "sound enabled" interface, meaning you will hear little sounds depending on the action you choose. Unless you like such a thing, I suggest disabling program sounds. I prefer my antivirus programs to be seen and not heard. 🙂
Updating – As expected, Avast offers automatic updates. Not only that, you have a ton of choices available – just want to update virus definitions automatically? Done. How about program updates, too? Done.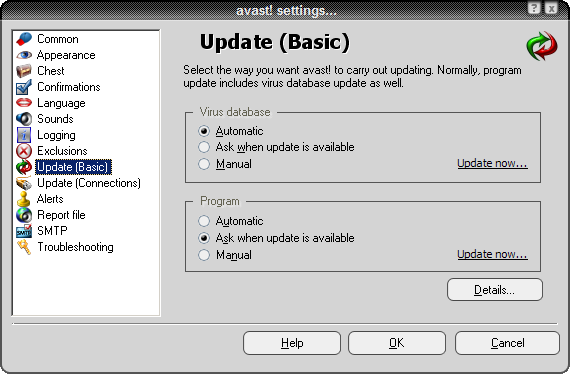 One feature that I truly enjoy is the ability to run in "silent" running mode – updates provide no notification of when they are complete, making Avast a good "install and forget" program. Very nice.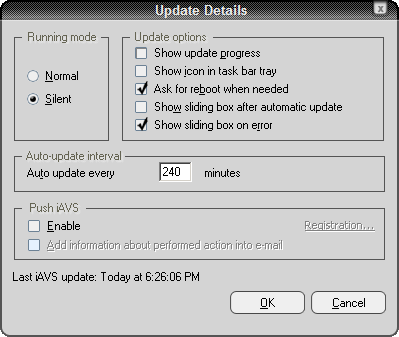 Footprint and Scanning – The good news: I have not noticed any slowdowns in normal usage, so Avast appears to be light on system resources.
The bad news: Running a thorough scan tends to hold my CPU usage around 70%, with occasional spikes up to 100%. System responsiveness is reduced drastically when this happens. Fortunately, Avast provides an option to "Go to background" while scanning, and my advice is to please take advantage of this, as doing so made my system responsive again.
A complete scan took a little over an hour on my system (over 400 GB of files). This is comparable to AVG's speed.

Types of Protection – This is one area where Avast truly shines. By default, Avast offers 7 different resident protection "shields." They include:
Network shield – analyzes network traffic
P2P shield – for added file-sharing protection
Standard shield – the "on-access" scanner
Web shield – monitors HTTP traffic (includes URL blocking)
Instant Messaging shield – useful if you receive files through IM
Internet Mail shield – for most mail programs
Outlook/Exchange shield -exclusively for Outlook
Each "shield" has configuration options of its own, and you may enable or disable entire shields at will. In the screenshot I provide, notice that I have disabled 3 of the shields (greyed out) since I have no use for them on this particular machine.
Like the other programs reviewed so far, Avast integrates a targeted scan into the "right-click" explorer menu. As in most programs, initializing a targeted scan spawn a new program window, but unlike most programs, that windows immediately disappears if no threat is found. Yes! Many program creators should take a lesson here – why create extra steps to dismiss windows if there is no intervention needed?
EICAR Test – Here is a link where you can download a harmless test file that should be detected as malicious by antivirus programs. As I've mentioned before, it is NOT a real virus. In order to test the effectiveness of a program, I download the EICAR test file to my desktop and start counting to see how long it takes the antivirus program to find it. Sooner is always better than later. Let's see how Avast handles it.
Impressively, Avast will not even let the file download at all! Clicking "Abort connection" stops the download from taking place. Very nice.
Final Thoughts – Avast was one of the first free antivirus programs that I tried years ago. At that time, I was simply impressed that an antivirus program was available for free. Now, Avast continues to impress me despite competition from many other free offerings.
If you don't mind the annual re-registration, it's hard to beat Avast. Like AVG, it's one of the most popular free antivirus programs for a reason.
Hey you, how about subscribing to my feed? It's free!