An Overview of Free Antivirus Programs – Part II – PC Tools AntiVirus Free Edition
December 1, 2007 - Reading time: 6 minutes
UPDATE: PC Tools Antivirus has been acquired by Norton.
This is the second installment in our series on free antivirus programs. Be sure to also see Part I (AVG Free Edition).
Next on the list is the free edition of PC Tools AntiVirus. Review version: 3.6.1.8
Product Link: PC Tools Free Edition (link is now dead)
Installation – No registration required, which is nice. Reboot required after installation.
Interface – PC Tools sports a slick and shiny interface. More importantly, it's easy to navigate and understand. Here is the main program: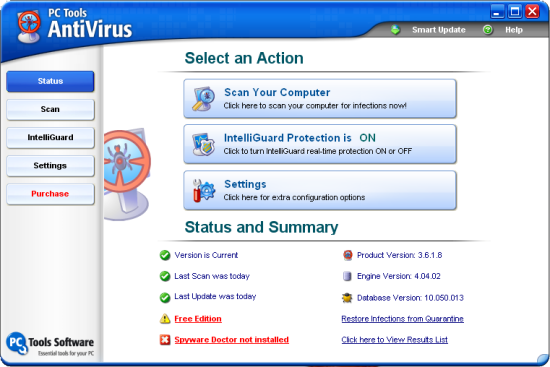 And here is what it looks like while scanning: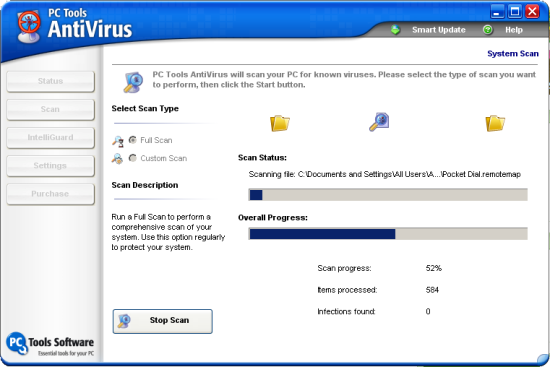 Updating – Manually updating the program is easy – just use the "Smart Update" button on the main program window.
Concerning automatic updates, there are two options available.
Set a frequency in which to search for updates (ranging from 30 minutes to 24 hours).
Set a scheduled time in which to update (can be daily, weekly, or monthly).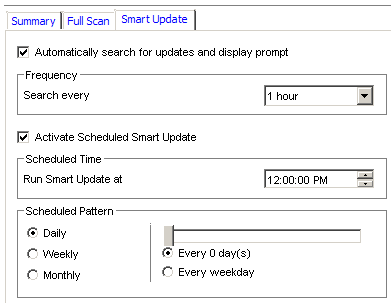 Of course, you may use both options. However, the main downfall is that the first option will NOT automatically install any updates. Instead, it will display a prompt from the taskbar notifying you that an update is available. In my opinion, this feature is almost useless because it requires manual intervention. I would much rather see it go ahead and install the updates, preferably without notifying me at all!
Fortunately, the second option seems to automatically install updates, though your computer must be turned on at the time you specify. All-in-all, the manual updating procedure is stronger than the automatic with this program.
Footprint and Scanning – On my system, PC Tools AntiVirus took over 3 hours to run a "complete" scan (over 400 GB of files). By comparison, AVG only took just over an hour to run. Make no mistake, PC Tools AntiVirus is slow at scanning, though overall effectiveness is admittedly more important than sheer speed. Still, this is an area that I would like to see improved.
Concerning system resources, PC Tools AntiVirus definitely "feels" heavier than AVG, though not as heavy as in my experiences with some versions of McAfee and Norton. It's subjective, but programs and files on my system take a little longer to open with PC Tools installed.
Types of Protection – PC Tools AntiVirus offers both real-time protection and on-demand scanning. I'm pleased to see that a plug-in for e-mail protection is also available (separate install – look near the bottom of the product page), which is handy for you POP3 mail users.
EICAR Test – Here is a link where you can download a harmless test file that should be detected as malicious by antivirus programs. It is NOT a real virus. In order to test the effectiveness of a program, I download the EICAR test file to my desktop and start counting to see how long it takes the antivirus program to find it.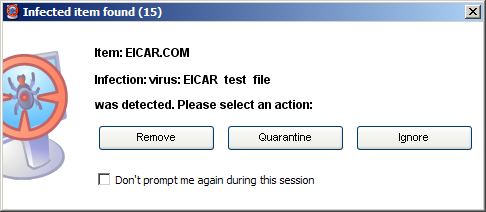 I was pleased that PC Tools did not even allow the file to download to my desktop. As soon at the EICAR file went into my browser's cache, PC Tools snagged it and sounded the alarm. Nice! This is even faster than AVG's detection and is one of PC Tool's stronger points.
Final Thoughts – PC Tools AntiVirus impresses immediately with its shiny, intuitive interface. However, beauty is only skin-deep, and this free antivirus program fails to impress in other areas, such as the needlessly-complicated automatic updates and the tremendously-slow scanning speed.
Other little tasks show a lack of foresight as well. For instance, I appreciate that targeted scanning is integrated into the "right-click" explorer menu, but once scanning is finished, clicking "Close" leaves me staring at the main program window instead of sending it back to the taskbar. In a targeted scan, why would I want to keep the main program open when the scan of my file(s) is finished? It just adds an extra step.
So then, would I recommend the free version of PC Tools AntiVirus? Yes, but not as highly as other free antivirus programs, such as AVG. In a way, it's a shame that I don't have a system chock fully of viruses that I could use to evaluate detection rates, because I suspect that PC Tools is quite good at it. If you are willing to sacrifice a few system resources and don't mind a little manual intervention for updates, PC Tools AntiVirus should reward you with good looks and virus detection.
Stay tuned for further entries in this series.
Enjoying this series? No? Subscribe to my feed anyway. It's free!