An Overview of Free Antivirus Programs – Part I – AVG Free Edition
November 29, 2007 - Reading time: 5 minutes
Henceforth begins a multi-part series in which I plan to install and test every different free antivirus program that I can find. Since 2002, I have switched between a handful of various free antivirus programs, but there are several available now that I have not tested.
Therefore, I have decided to document this process here in order to provide an overview of the currently-available free antivirus programs. I have currently compiled a list of seven different programs to try, but there may be more if I find others along the way. Here are my criteria:
The program must be "install-able" – I will not cover any online scans.
The program must be FREE. Upgrade paths are acceptable, but no "trialware" allowed.
The program must not contain any spyware. If any spyware is detected, that program's creator will receive a virtual kick in the junk from me personally.
In the coming weeks I will post reviews on each of these programs, as I plan to "live" with each of them for a few days in order to write more "informed" reviews.
Let us begin with the venerable AVG Free Edition. Review version: 7.5.503
Product Link – AVG Free
I have used AVG Free Edition off-and-on for several years now. And while it has not always scored the highest in detection rates, it is simple to install, simple to use, and is very light on system resources.
Installation – No registration currently required. Just download and install. Piece of cake.
Interface – AVG may not be the best looking girl at the ball, but she'll turn a head or two. Though the looks are spartan, the interface is easy to navigate. Here is the Control Center.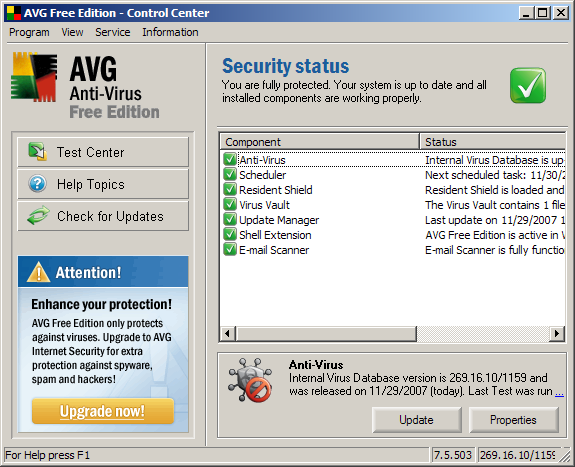 And here is the Test Center.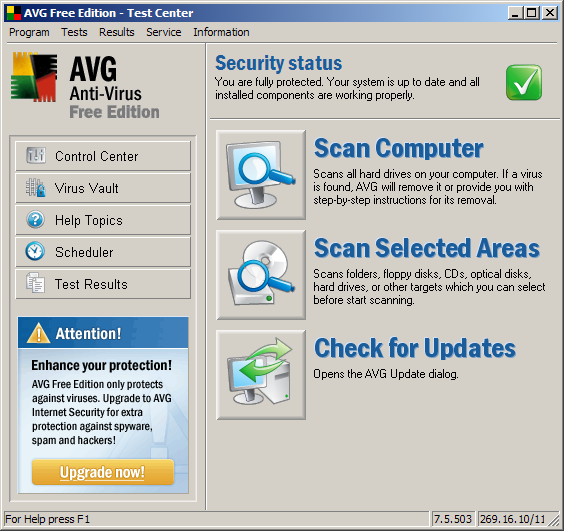 Updating – AVG offers automatic updates, making it an effective set-and-forget piece of software. You can also easily make updates silent.
Footprint and Scanning – AVG is remarkably light on system resources. In 2003 I replaced Norton with AVG and was amazed at how much faster my computer booted and ran. It was like a breath of fresh air.
By default, AVG will try to schedule a complete system scan every 24 hours, though you may easily opt out. When doing a complete scan, I appreciate the option to automatically shut down the computer when the scan is complete.
It took AVG approximately 1 hour and 15 minutes to finish a complete scan of my system, which includes about 400 gigabytes worth of files. Of course, your mileage will vary.
Types of Protection – AVG offers real-time protection, on-demand scanning, and an e-mail scanner. It does not scan for spyware or offer firewall protection. To some this may be a downfall, but it is a feature in my opinion. I prefer programs that "do one thing, and do it well." The included e-mail scanner is handy for people who rely on POP3 programs such as Outlook and Thunderbird.
EICAR Test – Here is a link where you can download a harmless test file that should be detected as malicious by antivirus programs. It is NOT a real virus. In order to test the effectiveness of a program, I download the EICAR test file to my desktop and start counting to see how long it takes the antivirus program to find it.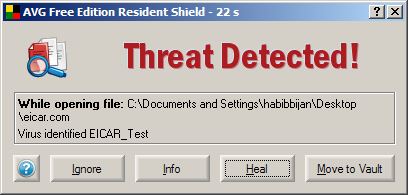 It only took AVG a couple seconds to find it and provide options on what to do with it. "Healing" deleted the file.
Final Thoughts – AVG is one of the most popular antivirus software programs for a reason. Yes, there are probably more effective commercial programs available, but most of them will rob you of both your money and your system resources. I have no problem recommending AVG to anyone who wants a free antivirus program, though I suggest that you install a separate anti-spyware utility.
Stay tuned for further entries in this series.
Subscribed to my feed yet? Why wait? It's free!