A few days ago I wrote about syncing your Windows Mobile contacts and calendar over the Internet for free using Funambol. Today I'm going to show you how to accomplish the same task, plus the ability to synchronize your contacts and calendar with Plaxo, Mozilla Thunderbird, and Google Calendar.
Excited yet? Let me show you how neat this truly is – how would you like the ability to add an event to Google Calendar and have it automatically update on Thunderbird AND your Windows Mobile device (Smartphone or PocketPC)? Sound good? How about adding a new Contact on your phone and having it show up in Thunderbird (or vice versa)? What if I tell you that you don't even need to install anything on your phone? Oh, and here's the best part – the entire process is FREE.
Required Tools
Several pieces of software work in conjunction to keep everything in sync. Here's what you will need:
On the Internet:
For Your Windows Mobile Device:
For Your Computer (Windows, Mac OS X, Linux/BSD):
Sound complicated? It really is not. Here's a visual guide that I threw together to illustrate the data directions.
Before we begin, let me state that all of these products are currently free. While I hope they all stay that way, I have not yet discovered whether or not NuevaSync will begin charging for their service once they come out of Beta. If anyone associated with NuevaSync reads this, we would appreciate a comment. Also, Plaxo has a free and a Premium service. For the purposes of this guide, the free service is all you need.
Also, please note that some of these services are in Beta, meaning that there may be bugs and/or outages. PLEASE BACK UP YOUR MOBILE DATA BEFORE YOU PROCEED! This guide may work flawlessly for you, or it may eat all the noodles in your pantry. Proceed with caution. I am not responsible for any lost data.
Step One – Web Services
1. First things first, if you want to sync with Google Calendar, you must HAVE a Google Calendar. If you have a Gmail account, you already have one.
2. Next, create an account with Plaxo. Yes, Plaxo is yet another social network, though without the I'm an attention whore kind of mentality most social networks have. Instead, Plaxo focuses on keeping information about you and your contacts up-to-date. Here's the last few lines from their About Page:
We are dedicated to the notion that your address book, your friends list, and your content belong to you, not to us. We make it easy for you to take them with you wherever you go and to use them with an ever-expanding array of sites, applications, and devices.
I can't stand most social networks, but I can handle Plaxo simply because they are an integral tool in keeping my sync setup working.
3. Add a Google sync point to Plaxo.
Before you sign out of Plaxo, we need to add a sync point for Google. Essentially, you are going to give Plaxo your Google Account information and have Plaxo log in and perform a Calendar sync every 15 minutes.
Click the Calendar tab at the top of Plaxo.
At the bottom of the page, look for the Add sync points link.
Choose the Google option, enter your account information, and follow the prompts. Plaxo can currently only sync your Google Contacts in one direction (from Google to Plaxo), but syncing with Google Calendar is bi-directional.
Once this step is complete, your Google and Plaxo calendars should be synchronized. Now you can move on to the Windows Mobile device setup.
Step Two – Windows Mobile Device
We're going to use NuevaSync to connect your Smartphone/PocketPC to both Google Calendar and Plaxo. There are two main steps to this process.
1. First, create an account with NuevaSync, a service that provides over-the-air synchronization of Smartphones and PocketPCs. Their website is pretty sparse, but essentially NuevaSync acts like an Exchange Server, using the built-in ActiveSync (OTA) protocol on your Windows Mobile device. Think of it as a proxy to Google Calendar and Plaxo.
Once you've created your account, all you need to do is tell it sync your Calendar and Contacts with the appropriate services. You will see a status and setup screen like the one shown here. Use the change button to choose the Google and Plaxo services, and use the setup button for each to provide the appropriate login information for each service. (Note: if you are uncomfortable providing your Google and Plaxo login information to NuevaSync, you will be unable to proceed any further. I admit that it was a little disconcerting, but I have seen no consequences to date. If either account is ever hijacked, I will post back here.)
2. Configure your Windows Mobile device to connect to NuevaSync.
Guess what? You don't have to install anything on your Windows Mobile device from NuevaSync. All you need is ActiveSync, which is already built-in. Here's the process:
Launch ActiveSync (Programs → ActiveSync).
If you have an existing server setup, delete it (Menu → Options → select Microsoft Exchange → Delete).
Add a server source (Menu → Add Server Source).
Enter www.nuevasync.com under Server Address.
Make sure that the encrypted (SSL) connection box is checked and select Next.
Enter your NuevaSync username (your_name@mail.com) and password.
Under Domain, enter anything you want. The field is required to continue, but NuevaSync supposedly doesn't use it (If this area is grey, this just means that you're lucky enough to own a newer device and can proceed without entering anything). I entered "crap" for my domain.
Press Next.
The last screen shows the data available to sync (Contacts, Calendar, E-mail, Tasks). At the time of this writing, NuevaSync only supports syncing Contacts and Calendar. Leave the others unchecked.
Press Finish. Your device should now attempt an initial sync. If it does not connect, check your login information again. If it syncs, you're in business.
Here are three slides that show the process on my smartphone: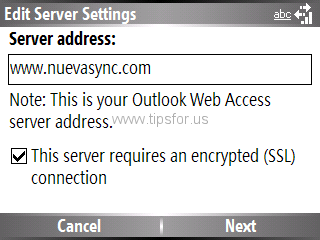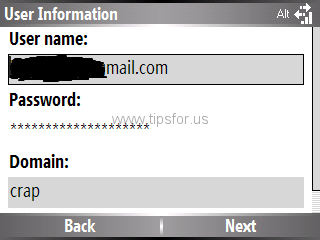 At this point, your Contacts should have been sent to and synced with Plaxo. Let's verify this: Manually log in to your Plaxo account, click People → Address Book. See your contacts? If so, try adding a contact on your mobile device. It should soon show up in Plaxo. Try deleting that same contact in Plaxo. At the next sync, did it also disappear from your phone?
Go on to the next page (below).